This download is just a sample of some of the practical articles and legislative updates available in the CCCC Bulletin. Published five times annually, the CCCC Bulletin is available to members in print and online formats.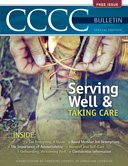 What's Inside:
9 Rules to Remember when Issuing Charitable Tax Receipts
Job Descriptions for Charity Board Members
Accountability in Ministry: What's the Big Deal?
The Burnout Epidemic: Why Self-Care Must Be Part of Your Leadership Strategy
7 Tips to Create An Amazing Onboarding Experience
Best Practices for Handling Confidential Information
Please provide your contact information and we will be delighted to share with you this free resource from CCCC.
By providing your contact information, you agree to receive a communication from CCCC including your free resource and periodic special offers. You will be given an opportunity to unsubscribe at any time.