I'm not allowed to grow facial hair any more. The one chance I had, I blew it because I took too many liberties with it. I discovered that in a marriage, I have shared ownership of my appearance. So now I shave. My whole face. Every…single…day! Day………after…………day……………after………………day.
Some of the CCCC staff members grow moustaches in November (all of them of the male persuasion), and Derek Ross has grown a fine moustache and beard combo that should have him in Hollywood, but I remain free of whiskers on my visage each year. Not that I don't care about Movember or the cause that it supports – awareness of prostate cancer. It's just that I always thought I would grow old with my loving wife. And for that, I remain baby-faced smooth.
So, aside from making a contribution to support my son Harley's fine moustache (he's part of the Movember team at exactEarth Ltd), here's how I can participate in Movember. I am posting photos from when I did have facial hair. It doesn't meet the Movember rules because you can only grow a moustache, not a beard or goatee. The problem is, I look AWFUL with just a moustache.
My original beard was inspired by William Riker's on Star Trek: The Next Generation. I grew the beard in August 1994 and still had it when my daughter Marilyn was born. I realized after a bit that I couldn't shave the beard off because she wouldn't know who I was without it. So I kept it for about four years and decided to have fun with it. I wasn't trying to look anything in particular, but in hindsight I've added some descriptive captions. Have a good laugh!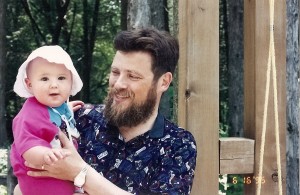 "Amish" John
More from John
Latest
Categories
Tags
Series