Authored by Michelle DeVries, Story Journalist
The Gideons International In Canada | ShareWord Global
Nothing can transform a life like the gospel can. The gift of Jesus Christ gives new life to anyone who will receive it—we believe that this new life changes everything! People desperately need to hear the gospel message, to know how much they are loved and what Jesus has done for them, out of that love.
It's why The Gideons International In Canada| ShareWord Global exists. Thousands of volunteer members join together to share God's Word in Canada and around the world through the ministry's international arm, ShareWord Global. In order to see the gospel spread beyond the nation of Canada, around the globe, we're committed to partnering with and resourcing the local and international church.
The salvation of one person always has a ripple effect. One impacted heart goes on to impact another, and it goes on to influence the culture around them. In every region of our world, there are unique needs. Each one needs addressing, but the need for the gospel is the most pressing of all.
Take a look at what the Good News is doing in Zambia. There is a radical upheaval taking place, breaking down negative mentalities and rebuilding their perspective of their value.
"In our culture," confessed a father from the Tumbuka, "we treat wives as beasts of burden, to work on our farms and take care of our children. We thought since we bought them, we could use them any way we wanted. But your Bible lessons have taught us this is not God's Way."
The Bible is now being allowed to enter African villages, and is totally redefining Tumbuka families. That impact will go on to affect their communities, their regions, and their country. It's a phenomenon happening all over the world.
In India, a man named Samson works diligently on translation projects, in an office with stacks of binders. These binders contain page after page of pastors' photos and contact details, and next to them, the names of 250,000 people who have asked to receive a Bible.
Samson spent over 3 years collecting these names. When he began, he had no way of filling all their requests. Still, he believed God would make a way. He continued diligently at the Bible distribution centre where he worked, wishing he was able to give the Bibles away to all those who could not afford them.
That's where we met Samson, working with him on translation rights for our Scriptures. And that's when he mentioned, offhand, the binders. The 250,000 waiting people of India. The desperate need for God's Word in their own languages, and the inaccessibility to resources. This is exactly the kind of need that ShareWord Global seeks to fill, and we told Samson so. Plans began to form to get Scriptures into India.
Over two trips to India, in May and December of 2016, 60,000 people received their own long-awaited copies of God's Word. The reception was overwhelming. Pastors had traveled from districts miles away to attend the dedication ceremonies as they received the boxes of Scriptures on behalf of their congregations and communities. They were overjoyed, and so grateful—not just to the team, but to all those who gave to make it happen, and ultimately to God.
Some of those churches went from having one Bible to share to having a copy of God's Word for every person, to learn from and then pass on to others. We are confident that the gospel is not only changing their lives, but that they are now sharing it with those around them who also need to hear the message of hope in Jesus Christ.
That's why we do what we do at The Gideons International In Canada. It's all about getting the gospel to people everywhere, as effectively as we can. Our method is to share God's Word, because the Bible is one of the most powerful ways we can hear from God and get a revelation of His love.
The common perception of our ministry is that we place Bibles in hotel rooms. This is true. Yet there's a lot more to it than that. There's a strategy, a rhyme and reason to what we're trying to achieve. You can train and equip one person to share the gospel, and they will make a big impact. You can do that again with thousands; now the results are immeasurable. God is always bringing people to Himself, and we are vessels of His love, carrying the gospel to every part of the world.
Everyone needs the gospel equally, but many countries have restrictions on the Christian faith. We are hard at work to see God's Word shared even in those closed countries. China, for instance, has opened its doors to us, and over 270,000 Bibles were given out in the last year.
Russia is another example, where recent laws have limited evangelism outside of churches. Nevertheless, the church in Russia is determined to be more strategic than ever in spreading the gospel. At a meeting last fall with several pastors and denomination leaders, they were asked what the new laws would change for them.
"Nothing will change for us," was the reply. "We have heard these things before so it is nothing new to us. Nothing will stop us from sharing the gospel with our people."
In this group was the pastor of evangelism and missions at the largest denomination in Russia. When asked how we could help him, he handed us a piece of paper on which he'd written a number: 3.5 million Scriptures. Below that he wrote "Bibles, New Testaments, Gospels of John, Scripture magazines."
Stunned, we asked him how he would distribute so many. So he showed us the detailed map on which their evangelism strategies were already planned out. "We distributed three million last year," he said. "We can give more this year."
And so, the gospel is reaching even the most remote places. In Russia, where Bibles were placed years ago, now you can find churches there. The Bible brought people together, to study and share God's Word in their homes, and just like that, a church is formed.
God's Word is like a seed; it flourishes wherever it is planted. And you're a sower when you carry the gospel with you! It's the reason we're here—to tell the world of the great love we've received through Jesus Christ.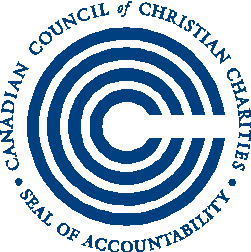 This charity has been certified by the Canadian Council of Christian Charities. Charities that display our Seal of Accountability demonstrate ongoing compliance with high standards of financial and organizational integrity. To find out more about this charity or other Certified charities, visit giveconfidently.ca.
More from Stories of Faith from Canadian Charities
Latest
Categories
Tags
Series