The Ministry-Focused Website Solution and CMS that comes with a team.
CCCC has partnered with Radiant to help our members who are looking for a more robust website and content management system (CMS), along with a strategic partner to help them manage it. The product they offer is called Radiant WebTools, which many of our Canadian ministries already benefit from.
Radiant WebTools is tailored for medium to large scale Christian ministries and churches who are tired of building a website, just to watch it become stale and outdated. Radiant WebTools comes with your own professional web team. They create the site for you, help you manage it along the way, and offer suggestions on how to improve upon it. Consider them your personal website consulting team and mechanics. Here are three major areas that make Radiant WebTools unique from others in the industry:
Innovation: Radiant WebTools has been around longer than WordPress. They are a Christ-focused company that is uniquely positioned to help ministries. [Learn More]
Security: Statistics show that over 30,000 websites are hacked every day; many ministries have been subject to data breaches. Radiant WebTools has a unique approach to security. [Learn More]
Experience: Radiant WebTools is more than just a content management system and website tool. It's powered by real people who care about your ministry. [Learn More]
Here is an example of a church or ministry that will find Radiant WebTools helpful: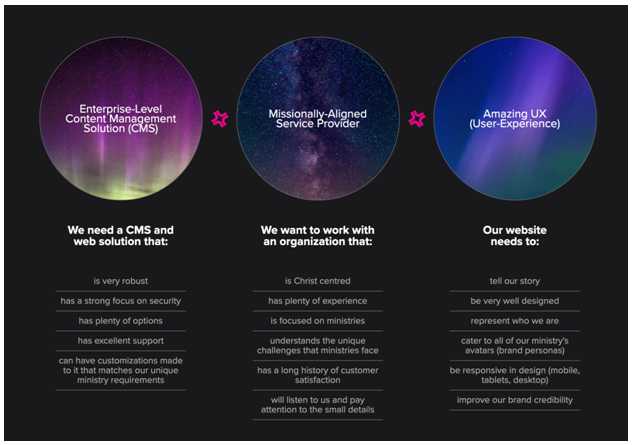 With Radiant WebTools, Canadian churches and ministries can get a robust, professional-looking website without the need of a programmer, consultant, or big budget. They even allocate time every month to help you with website updates so that you can focus on what you do best.
CCCC has negotiated some fantastic pricing for CCCC members that join Radiant WebTools. CCCC members will receive two discounts:
Radiant WebTools' subscriptions are priced in US dollars. As a Canadian-based company, Radiant will make the Canadian dollar par to its US dollar pricing for CCCC ministries. (A savings of about 30%!)
CCCC members will also receive an additional 10% off.
A third discount can also be applied. If your church or ministry signs up on their annual plan, you will receive an additional two months free!
Please let them know that you are a CCCC member to receive your discount.