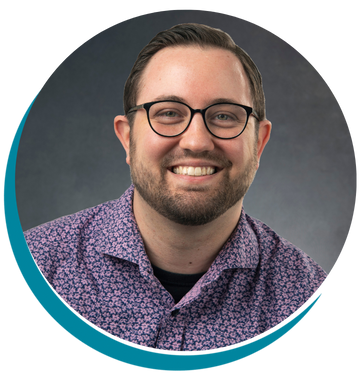 Christian Malleck,
Head of HR,
Member Support Team
What's inside
Managing the HR function is complex, but it's vital for a thriving workplace! As you approach the new year, what are some things you could put in place to support this area of your ministry? We recommend you check out CCCC's recently recorded HR webinars, now available to members for free on our website.
This Bulletin features a guide on how to create a Respectful Workplace Policy. It'll help you set the tone for positive and respectful interactions between employees and those you serve.
Another area to consider is implementing a sound Philosophy of Compensation Policy. This is where you'll lay out your ideas about fair compensation in your organization. Without this policy in place, it's easy for employers to be swayed by the urgency of the moment—and that can lead to inequitable distributions of wages and ineffective means of compensating your people. Both of these member resources are available in the links below.
If HR is an area in your ministry that could use some extra attention, please reach out to us! CCCC offers affordable HR consulting to members and programs that can help you with your hiring processes, annual policy reviews, and more.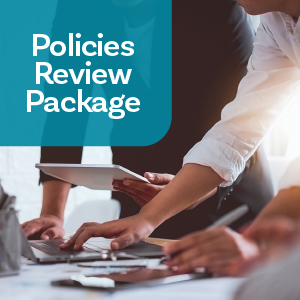 Human Resources Policies Review Package
It's a good organizational practice to regularly review your HR policies—and in some cases, an annual review is a legal requirement. CCCC's HR Policies Review Package provides you with a comprehensive review of your legally required policies and professional recommendations for updating them.
Charitable Sector Updates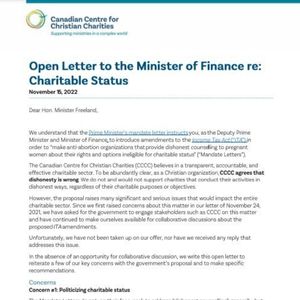 CCCC's Open Letter to the Minister of Finance Regarding Charitable Status
CCCC continues to actively monitor federal challenges to charitable status arising from the December 2021 Mandate Letters. These letters instruct Federal Cabinet Ministers to "make anti-abortion organizations that provide dishonest counselling to pregnant women about their rights and options ineligible for charitable status."
CCCC agrees that dishonesty is wrong but is concerned about the significant and serious issues this proposal raises–issues that would impact the entire charitable sector. Over the past year, we've written several letters to Cabinet Ministers about this proposal, expressing concerns also shared by others in the charitable sector.
We've written again to the Minister of Finance by way of an open letter. This open letter reiterates a few of our key concerns and makes specific recommendations. The full text of the letter is below.
You can also watch a video interview between Karen Stiller at EFC and Deina Warren of CCCC as they discuss why Canadians need to be aware of these recent challenges to charitable status.
Read more
What Quebec's French Language Bill Means for Charities
On May 24, 2022, the Quebec National Assembly voted to pass Bill 96, which significantly changes Quebec's Charter of the French Language over the next 3 years. It is designed to "promote and protect" the use of French in Quebec, and it impacts individuals and situations as diverse as homebuyers' mortgage documents, high school students moving to the next stage in their education, and universities publishing reports and academic papers. Learn more about what Bill 96 does, what's already in effect, what's yet to come into effect, and how it could potentially impact charities.
Read more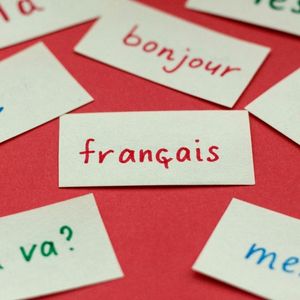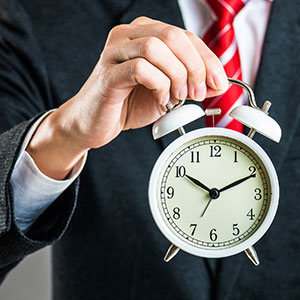 CCCC staff are constantly reading news, reports, and other resources to stay on top of developments in the charitable sector. We think you'll find these picks helpful!
Making Grants and the New Rules for Charities
Does your charity work with organizations outside Canada? Or with non-charities in Canada? If yes, this webinar is for you! We'll talk about CRA's new draft guidance on registered charities making grants to non-qualified donees from both a legal and operational perspective.
Congratulations to our Accredited Members!
By demonstrating a commitment to integrity, accountability, and transparency through compliance with the CCCC Standards of Accountability, CCCC Accredited Members have been given the distinction of CCCC Accreditation.
Congratulations to the following Accredited Members who recently participated in a scheduled field review and demonstrated their ongoing commitment to integrity, accountability, transparency, and the CCCC Accreditation standards: ABWE Canada, CAUSE Canada, Emmanuel Bible College, Ghana Rural Integrated Development, and Souls Harbour Rescue Mission Inc. We are proud to have you as part of our Accredited Member community!
To find out more about CCCC Accreditation and our Accredited members, visit giveconfidently.ca.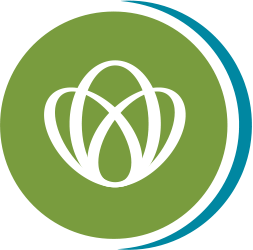 THE GREEN: GROWING MINISTRY CONNECTIONS & CONVERSATIONS
A Pro When You Need One
The professionals listed in our Professional Associates Directory provide services to charities and practice in four general areas: law, accounting, insurance, and consulting.
GET IN TOUCH WITH CCCC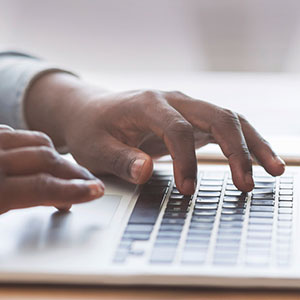 Contact details
Canadian Centre for Christian Charities
Address
1 - 43 Howard Ave
Elmira, ON N3B 2C9
Phone
(519) 669-5137
View driving directions
Contact us online
* Indicates required field