Accreditation Program for Christian ministries
Demonstrate your commitment to high standards of integrity and accountability and become a CCCC Accredited Member.
Request information
Not only does accreditation provide peace of mind for our donors, it also gives us the assurance that we are properly handling the resources entrusted to us.
Sharon DePhillippeaux, Finance & Donor Services at ABWE Canada
Why become an Accredited Member?
A growing number of Canadians look for a charity's credibility when choosing to donate. The accreditation process enhances credibility through third-party accountability provided by our team.
Our Accreditation Program helps ministries demonstrate:
Their trustworthiness, mission and overall vision.
Financial and organizational integrity.
Transparency and desire to exceed the minimum requirements for maintaining charitable status.
Commitment to maintaining the highest standards as a Canadian charity.
Request information
Accredited members are exemplary! They meet over 50 requirements within the Standards of Accountability. CCCC works with charities to help position them for successfully achieving these Standards.

Christian Ministry
The charity is committed to the Christian faith.

Diligent governance
The charity is governed by an independent and active board, who establishes policies and reviews the impact of the organization's activities.

Financial oversight and transparency
The charity demonstrates transparency and proper financial oversight through an independent financial audit, an audit review committee, and public disclosure of financial statements.

Organizational integrity
The charity upholds the highest standards of integrity, adheres to applicable laws, and operates in accordance with its own governing documents.

Ethical fundraising
The charity is ethical in its fundraising activities and respects the dignity and interests of the donor.
Accreditation can help you to…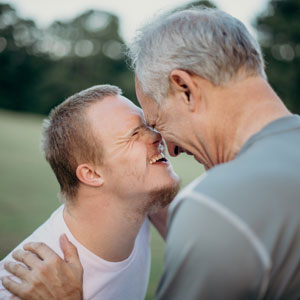 Inspire confident giving among your donors
As an Accredited Member, you'll earn the right to display the Accreditation logo on all your promotional materials. This symbol assures donors that you are operating with the highest standards of integrity.
Equip your staff with best practices to improve operations
Regular external reviews will provide your charity with detailed reports containing recommendations and best practices to help you improve your operations.
Demonstrate due diligence to your board
Accreditation assures your board that your charity is taking pro-active steps to improve operations, reduce risks, and obtain a comprehensive review from external professionals.
Connect with new donors who are eager to support Christian charities
As a Accredited Member, you'll have the opportunity to create a customized profile on giveconfidently.ca, which is regularly promoted to potential donors.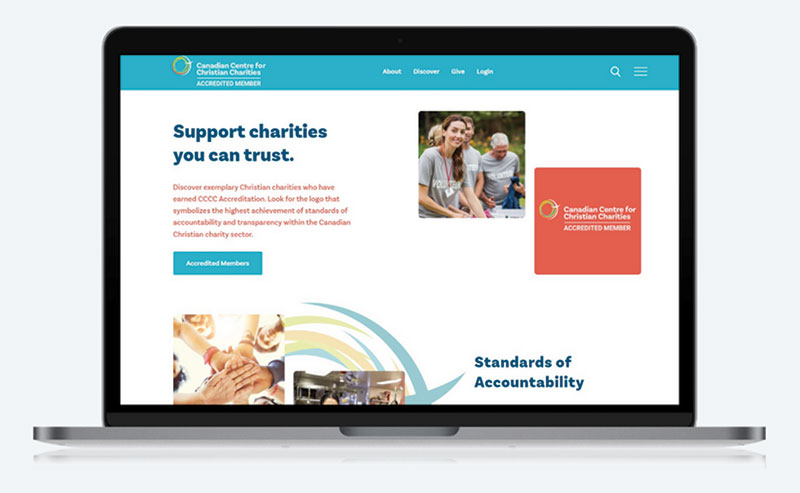 Displaying your Accreditation
There are so many ways to promote your accreditation achievement. Accredited members receive:
Custom webpage on the donor website giveconfidently.ca
Use of the Accredited Member logo for all donor communications (website, Annual Reports, donor mail, etc.)
Inclusion in CCCC marketing activities such as print and digital ads and custom inserts and materials to share with your donors.
Once again, I'd like to thank the CCCC for the assistance that was provided. I recently emailed a financial question and received a reply within hours. This was a huge help and I was able to furnish our accountant with information which will assist them to understand how charitable organizations are run. You offer many other services, I know, but I've been helped countless times by you to do a better job.
As a first-time executive director, who started in January 2020, I cannot say enough how CCCC has been a lifeline professionally and ministry wise. I have called the CCCC office so many times to ask for help. I have been amazed each time by the thoroughness and wealth of knowledge that the team has. Thank you for the incredible work you do to support ministries such as Mully Children's Family Canada (MCF)!
I appreciate the ability to just call and get to the right person, I never feel rushed by them, and the follow up always exceeds what they say they would do.
I appreciate that CCCC is very accessible as a touchstone to confirm my understanding of the law. They have high credibility and I know I can trust their opinion.
We value that we don't have to do the work of research when CRA makes certain decisions – we can rely on the guidance from CCCC. As certain needs arise, we know that we have a friend and connection in areas like policy development, charity law, and trends of what's happening in the Christian charity sector. CCCC is an incredibly valuable resource.
"The 'future' comes quicker than we expect, but it need not take us off guard. With future planning support from a Christian perspective, and sound market counsel our employees can make decisions and choices in which they can have confidence. The benefit that comes with working with an organization such as CCCC is that they have done the research and work to ensure that the pension plans are competitive, have integrity and help build a secure financial future."
The CCCC's legal and technical advice is always beneficial for us; it's a service we could never afford on our own. They're like our CFO in a box. It's critical for Haven to have the oversight we need to be appropriately governed. The articles and advice from CCCC bring to light areas we can improve, and the charity handbook is invaluable.
It's been a pleasure to work with the CCCC. They have helped us every step of the way. They are smart and ready to serve. We now have a series of tools that we are using to better manage and value our staff. I recommend them highly.
I am learning so much about leadership and governance by serving with the CCCC Board. The example of integrity is a model for me personally and Youth for Christ Canada where I serve as National Director.
Financial integrity matters to us at Compassion Canada and it matters to our supporters. We proudly display our Accreditation by the Canadian Centre for Christian Charities so that our more than 100,000 Canadian supporters can give confidently and generously to release children from poverty in Jesus' name.
Explore Accreditation
We invite you to discover if Accreditation is right for your ministry. Please provide your information below to receive a copy of our Accreditation Program Guide, including the detailed requirements of the CCCC Standards of Accountability and application form.