Employment Law 101 for Charities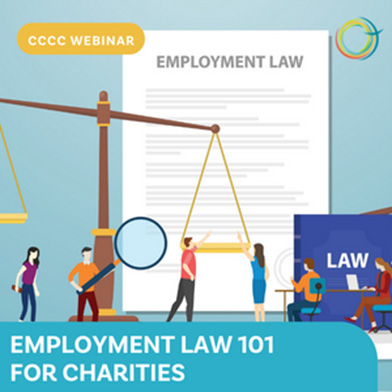 If you're new to the world of HR, or just want to brush up on your skills, join us for our upcoming webinar, "Employment Law 101 for Charities."
You'll hear from employment lawyers on key topics, including hiring and contract basics, health and safety obligations, remote work considerations, terminations, and more.
Any charity leader wondering how to navigate the often-complicated realm of employment law should attend! You won't want to miss out on this webinar, the first of our four-part HR series.
Moderators:
Deina Warren, Director of Legal Affairs, Canadian Centre for Christian Charities
Christian Malleck, Head of HR, Canadian Centre for Christian Charities
Panelists:
Adrian Miedema, Partner, Dentons
Barry Kwasniewski, Partner, Carters Professional Corporation
Length: 1 hours 03 mins 00 sec
Presenter: Adrian Miedema, Barry Kwasniewski, Christian Malleck, Deina Warren
Select CCCC webinars are available for purchase by non-members (pricing below.)
Check out the other webinars in our Fall 2022 HR Series:
Employment Law 101 for Charities
Members: FREE
Non-members: $25
Receive notifications for upcoming events, newly published resources, and more!
Never miss an event, webinar, or conference ever again. Receive notifications straight to your email by subscribing to our "CCCC Events & Webinars" emails. We respect your privacy and inbox capacity, and will only send you the information you need to know.