Reading Financial Statements for Boards and Leaders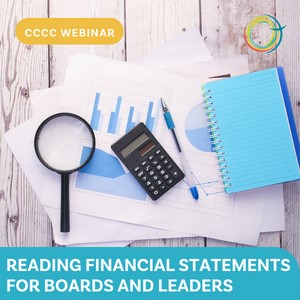 Are you a charity board member or ministry leader who is expected to make decisions based on financial statements, but would benefit from a fuller understanding of what those statements mean? This CCCC webinar will help you interpret these important financial documents, understand key terms, and provide you with knowledge to carry out your fiduciary and leadership duties.
This webinar is designed for board members and ministry leaders who want to gain a deeper understanding of the terms and financial principles expressed in financial statements. But it is also great for anyone who needs help interpreting their organization's financial documents.
In this webinar, you'll hear from charity accountants who have experience translating financial terms—or "the language of accounting"—for people without this background. You'll receive an overview and highlight the basic components of reading and interpreting financial statements, and you'll have an opportunity to ask questions of our presenters.
Presenters:
Wayne Kroeker, CPA, CGA, Head of Finance, CCCC
Curtis Towns, CPA, CMA, Head of Accreditation, CCCC
Pat Martens, CPA, CMA, President, Plains Edge Consulting Inc.
Length: 45 mins 45 sec
Presenter: Wayne Kroeker, Curtis Towns, Pat Martens
Select CCCC webinars are available for purchase by non-members (pricing below.)
Members: FREE
Non-members: $25
Receive notifications for upcoming events, newly published resources, and more!
Never miss an event, webinar, or conference ever again. Receive notifications straight to your email by subscribing to our "CCCC Events & Webinars" emails. We respect your privacy and inbox capacity, and will only send you the information you need to know.