Serving as a Board Member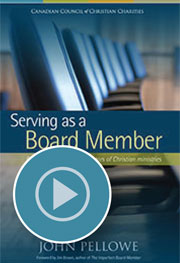 Serving on a board should be a rich, satisfying experience, but many times it is not. As we talk with leaders of churches and Christian agencies, we hear a lot of frustration about the effectiveness of boards.
People want to know how to be good directors and what their essential responsibilities are. They want to know how to participate well-how to have vigorous discussion and debate and still keep board relationships healthy. Directors want to understand the danger spots as well as best practices.
Serving as a Board Member will help directors shorten the learning curve and improve their governance skills. It is a great board orientation tool for new board members and an excellent refresher for directors with more experience.
To watch the content online, simply purchase the Online Video Version from our store. Your receipt will include a link with further instructions. The online version is optimized for tablets, laptops, and other mobile devices.
Each order is valid for two years from the date of purchase and may be shared with any board or staff member within your ministry.
Modules in this series:
| | | |
| --- | --- | --- |
| Module 1 | | Readiness to Serve - the personal aspects of board service (~11mins) |
| Module 2 | | How Being a Director Affects You - duties of a director and protection from liability (~22mins) |
| Module 3 | | Know the Board's Issues - how to get up to speed and special issues for church boards (~12mins) |
| Module 4 | | Special Aspects of Charity Leadership - everything you need to know about charity regulation (~18mins) |
| Module 5 | | Board Meetings - how they work and the "rules of the game" (~25mins) |
| Module 6 | | Governance - the principles of good governance and the questions you should be asking (~20mins) |
| Module 7 | | Board Deliberations - how to have honest, open debates and still all be friends (~15mins) |
| Module 8 | | Relationships and Coming Off the Board (~15mins) |