Help, I'm a Church Treasurer! (Recorded Seminar)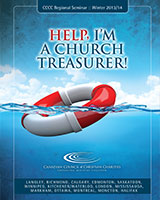 The status of your church as a registered charity depends heavily on the treasurer to be aware of the regulations about receiving and spending charitable donations. In addition, the treasurer is often the one who watches the church's financial health and keeps its finances in good order. That's a lot for a volunteer to do.
This recorded seminar will help you sort through the unique complexities of financial oversight in a charity and learn the essential things you need to know, including
Supporting ministry vision with the budget
Preparing good financial information for the board
Dealing with the Audit or Congregational Review Committee
Understanding the annual cycle for the church treasurer

Resources in
Resources out: paying invoices, payroll, qualified donees, benevolence payments
Sending money outside Canada
Year-end procedures

Filing the T3010 and avoiding common errors
Preparing for your successor
Although this seminar is designed for church treasurers, the material is applicable to treasurers serving in any ministry context.

Length: 2 hours 24 mins
Presenters: John Pellowe
Date of original recording: February 6, 2014
Each order is valid for 18 months from the date of purchase and may be shared with any board or staff member within your ministry.