Clergy Residence Deduction - Religious Orders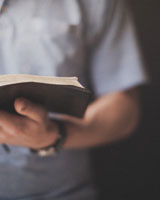 This webinar will assist employees relying on Religious Order membership to meet the CRD's "status test" and/or "function test." It explains the details that employees and their employer must know to understand the expectations of the Canada Revenue Agency (CRA). It also discusses the extra questions employers must address in the Employer section of Part B of CRA's T1223 Form - Clergy Residence Deduction.
Length: 07 mins 55 sec
Presenter: Gilbert Langerak
CCCC Members have unlimited, free access to this webinar. Non-members must purchase this webinar. Each order is valid for 14 days from the date of purchase and may be shared with any board or staff member within your ministry.
Members: FREE
Non-members: $25
Receive notifications for upcoming events, newly published resources, and more!
Never miss an event, webinar, or conference ever again. Receive notifications straight to your email by subscribing to our "CCCC Events & Webinars" emails. We respect your privacy and inbox capacity, and will only send you the information you need to know.