The World Changed: Your Strategy Should Follow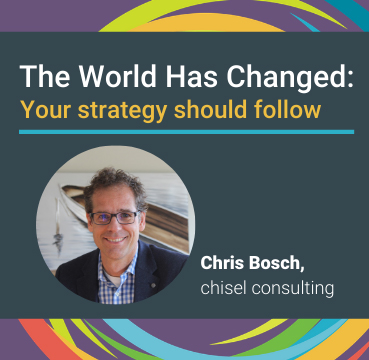 2020 is the year of the "pivot." CCCC welcomes expert facilitator Chris Bosch, Principal of chisel consulting, to lead ministries through a webinar session on strategic planning against the backdrop of our new normal.
What you'll learn:
As we emerge from the acute challenges of the pandemic, it is important to 1) discern where Jesus is leading, 2) to re-evaluate the assumptions that were used to develop your current strategy, 3) to test whether the assumptions are still valid, and 4) to determine how best to recalibrate your intentions and your plans in response to meet your program impact and revenue expectations. Basically, what should get your attention right now to improve clarity and focus for your board, staff, volunteers, and the people you serve?
Chris will introduce you to a five-step process you can do with your team immediately.
Length: 1 hours 01 mins 27 sec
Presenter: Chris Bosch
Select CCCC webinars are available for purchase by non-members (pricing below.)
Members: FREE
Non-members: $25
Receive notifications for upcoming events, newly published resources, and more!
Never miss an event, webinar, or conference ever again. Receive notifications straight to your email by subscribing to our "CCCC Events & Webinars" emails. We respect your privacy and inbox capacity, and will only send you the information you need to know.