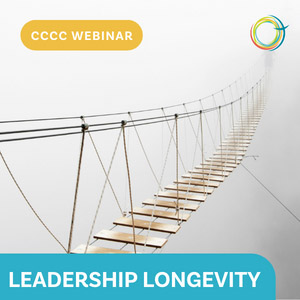 Leadership longevity is not just about doing the job for a long time; it's about thriving in your role for as long as possible.
So, what does it take to have a long, fruitful, and fulfilling role as a leader? What can leaders do to serve well and provide lasting, successful leadership for twenty years or longer?
Join us for our CCCC webinar recording where our panel of senior leaders with over 75 years of senior leadership between them!) will share their top tips and wisdom to help leaders at all levels thrive over the long term.
Moderator:
John Pellowe, CEO, Canadian Centre for Christian Charities
Panelists:
Barry Slauenwhite, Former President of Compassion Canada for 26 years
Lloyd Eyre, Pastor for 31 years of Peterborough Free Methodist Church
John Pellowe, CEO of the Canadian Centre for Christian Charities for 18 years
Length: 1 hours 01 mins 42 sec
Presenter: John Pellowe, Barry Slauenwhite, and Lloyd Eyre
Select CCCC webinars are available for purchase by non-members (pricing below.)
Members: FREE
Non-members: $25
Receive notifications for upcoming events, newly published resources, and more!
Never miss an event, webinar, or conference ever again. Receive notifications straight to your email by subscribing to our "CCCC Events & Webinars" emails. We respect your privacy and inbox capacity, and will only send you the information you need to know.