Bill C-4 and Liability Insurance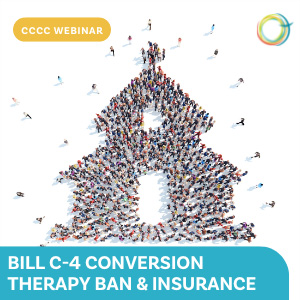 Are you still uncertain about Bill C-4, the legislation that criminalized conversion therapy?
The definition of conversion therapy in the legislation could leave you wondering about the implications for religious expression, teaching, belief and practice related to sexuality.
This new legal reality could have implications regarding insurance coverage and standard exclusion clauses in a liability policy.
It is important for board members, ministers, and lay leaders alike to understand these issues and navigate with sensitivity and knowledge this challenging issue.
Join us for a conversation with Deina Warren, CCCC's Director of Legal Affairs and Ken Hall, President of Robertson Hall insurance. There will be an opportunity to take part in the Q & A with the panelists during this 60-minute event.
Moderators:
Deina Warren, Director of Legal Affairs, Canadian Centre for Christian Charities
Ryle Cameron, Associate Director of Legal Affairs, Canadian Centre for Christian Charities
Panelists:
Kenneth A. Hall, President, Robertson Hall Insurance
Additional Q&A is available for members to view here.
Presenter: Ken Hall, Deina Warren, Ryle Cameron
Select CCCC webinars are available for purchase by non-members (pricing below.)
Members: FREE
Non-members: not available
Receive notifications for upcoming events, newly published resources, and more!
Never miss an event, webinar, or conference ever again. Receive notifications straight to your email by subscribing to our "CCCC Events & Webinars" emails. We respect your privacy and inbox capacity, and will only send you the information you need to know.