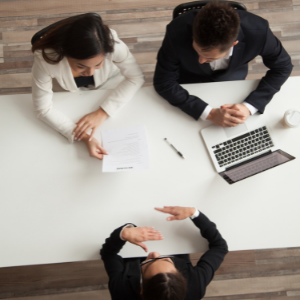 Before agreeing to hire someone onto your team, their interview is the best chance you've got to make sure they are the perfect fit. Don't miss this opportunity by asking questions you're unsure about or just made up, let me show you exactly what to say.
Let's make sure that every answer you get from a candidate is telling you precisely what you wanted to know about them.
CCCC's The Interview Package provides you with a complete list of questions you can ask in a first, second, or even third interview. You will receive interview forms ready to use, complete with a simple scoring method to make sure you capture the most important information. You will be trained to know why asking these questions is important, and what to look for.
The Interview Package will:
Provide you with interview forms filled with effective questions for any interviews in your process.
Explain the reasons these questions are effective, and tips on how to make more of your own to suit the specific position you're trying to fill.
Provide you with a scoring method for interviewing so that you are treating everyone fairly, and can effectively communicate interview results with people who weren't there for the interview.
Give you direction on how to foster an environment candidates can feel comfortable in, and what to look for in their answers.
By purchasing this program your ministry will ensure that whoever takes on the task of conducting interviews is well equipped to do so fairly and effectively. Additionally, you can access CCCC's Head of HR for free follow up calls and support.
Purchase this package and we will be in touch with you right away. Or, fill out the contact form to let us know you're interested, and we'll be in touch to provide you with more information.
HR Consulting purchases are non-refundable but do not expire.
Non-members: Not available
If you are a CCCC Member, please
log in
to purchase.