More Than a "Human Resource" (Recorded Seminar)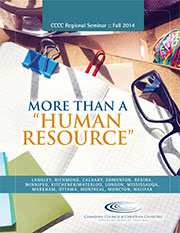 This recorded seminar will provide a Christian perspective on navigating three key aspects of the ministry employment relationship: hiring, employee development & care, and parting.
This session will cover
How do I write a job description?
What can I ask in an interview?
What are the key elements of an employment contract?
What kind of background checks should be conducted?
How much should I pay?
What benefits should be provided?
What should I include in new employee orientation?
Employee Development & Care
Creating a development plan
Providing performance feedback
Building teamship
Understanding the types of voluntary and involuntary departures (resignations, layoffs, terminations, and retirements)
Learning lessons from Canadian case law
Avoiding additional costs when terminating employees
Issuing the record of employment—special considerations

This recorded seminar includes a PDF of the presentation slides and over 40 pages of additional resources, including a sample job description, sample interview questions, a reference checklist, a sample sick leave policy, and a sample employment agreement.

Length: 2 hours 24 mins
Presenters: Chris Hall
Date of original recording: October 7, 2014
Intended Audience: Ministry leaders and managers, pastors , church administrators
Each order is valid for 18 months from the date of purchase and may be shared with any board or staff member within your ministry.