Employees and Independent Contractors: Distinguishing Between Them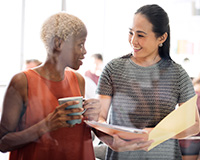 This webinar addresses the following important considerations:
Elements that must be considered to classify a worker properly
Differences between a charity's obligations to an employee and its obligations to an independent contractor
Consequences to both the charity and worker if the classification is incorrect
Length: 21 mins 16 sec
Presenter: Gilbert Langerak
Select CCCC webinars are available for purchase by non-members (pricing below.)
Members: FREE
Non-members: $25
Receive notifications for upcoming events, newly published resources, and more!
Never miss an event, webinar, or conference ever again. Receive notifications straight to your email by subscribing to our "CCCC Events & Webinars" emails. We respect your privacy and inbox capacity, and will only send you the information you need to know.