The REACTION Dashboard - The Simple tool leaders use to Understand, Assess, and Improve organizational culture.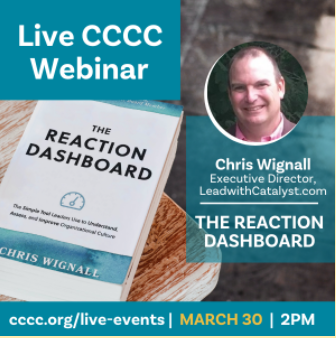 Every decent leader knows culture is important. We want our organizations to be highly effective, and we understand that can't happen without a healthy culture. What's been missing is a simple, clear, and highly practical tool we can use to quickly assess and improve that culture.
That's what The REACTION Dashboard provides. It's insightful, practical, and memorable.
You'll immediately be using it to identify and address Warning Lights that put your organization at risk.
More importantly, you'll be uncovering the untapped leverage of Celebration to bring more focus, energy, and fun into your leadership.
Bio: Chris Wignall is fascinated by how people and organizations work (or don't). As the Executive Director of LeadWithCatalyst.com he comes alongside charity leaders to help them lead more effectively and enhance the impact of their organizations. Past work as a pastor, church planter, camp director, corporate trainer, whitewater kayak instructor, and clown all inform his approach.
Chris lives beside a beautiful waterfall in Greensville, Ontario with his wife and three teenage children, spending as much time running, paddling, and exploring as he can.
Length: 49 mins 50 sec
Presenter: Chris Wignall, hosted by Nick Lall
Select CCCC webinars are available for purchase by non-members (pricing below.)
Members: FREE
Non-members: $25
Receive notifications for upcoming events, newly published resources, and more!
Never miss an event, webinar, or conference ever again. Receive notifications straight to your email by subscribing to our "CCCC Events & Webinars" emails. We respect your privacy and inbox capacity, and will only send you the information you need to know.