Conversations with Donors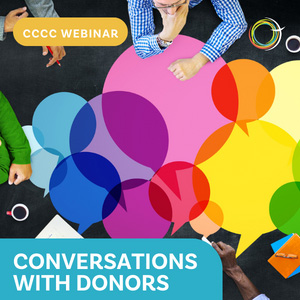 Fundraising and Development teams, we invite you to join us for our upcoming webinar, Conversations with Donors, featuring a panel of guests from Canadian financial ministries.
We will discuss ways to navigate conversations with sophisticated donors on relevant themes, including donor-preferred strategies, review the economic landscape and its impact on philanthropy, and how to encourage purposeful giving. You'll also have a chance to ask questions of our expert panelists.
Moderator:
Nick Lall, Head of Community Trust Fund, Canadian Centre for Christian Charities
Curtis Towns, Head of Accreditation, Canadian Centre for Christian Charities
Panelists
Lorne Jackson - President of Canadian National Christian Foundation (CNCF)
Maynard Wiersma - Executive Director of Christian Stewardship Services (CSS)
This webinar is available to anyone looking to strengthen their fundraising skills as they serve and support Christian ministry development activities and improve communication in key donor relationships. This webinar is approximately 30-minutes long with an additional 15-minutes for Q&A from participants.
Length: 1 hours 01 mins 04 sec
Presenter: Nick Lall, Curtis Towns, Lorne Jackson, Maynard Wiersma
Select CCCC webinars are available for purchase by non-members (pricing below.)
Members: FREE
Non-members: $25
Receive notifications for upcoming events, newly published resources, and more!
Never miss an event, webinar, or conference ever again. Receive notifications straight to your email by subscribing to our "CCCC Events & Webinars" emails. We respect your privacy and inbox capacity, and will only send you the information you need to know.