Three Truths to Remember
A theme that runs through my posts on the spirituality of leadership is that if ministry leaders are going to be successful over the long term, they must always remember three truths which will keep them receptive to God's leadership:
God created and owns everything, and we are his stewards.
God is our Creator and is the ultimate source of all our gifts, skills, and talents.
God is always at work through us and around us to accomplish his purposes, sometimes in ways we know and often in ways we'll never know.
Gratitude & Humility
When it comes to assessing our own leadership, these truths remind us that while we can take satisfaction in how well we develop our abilities and in the accomplishments we achieve, we must always remember that God is the source of everything. He gave us our abilities; he called us to leadership; and he works in people and in circumstances to make our work fruitful.
A sure way to lose God's support is to proudly claim his work as our own! If I believe I really get results independent of God, I can just imagine God sitting back and saying, "Well now, John, let's just see what you can do on your own!" A key verse which I remind myself of again and again is:
You may say to yourself, "My power and the strength of my hands have produced this wealth for me." But remember the Lord your God, for it is he who gives you the ability to produce wealth.
Deut 8:17-18
When people think they are responsible for their results, they are:
likely going to pray less frequently about their work
more likely to rely on human, rather than divine, wisdom
more likely to ask God to bless their plans, rather than giving God time to reveal his plans
going to get the results of human effort, rather than of Divine intent
The appropriate response to the three truths is to live in a constant state of gratitude towards God for his many blessings. When we live with gratitude, we live in humility, and God says repeatedly through Scripture that he looks for those with humble spirits. If we want God to work through us, we can't be self-reliant.
Something to remember is that human effort can frustrate Divine intent, at least as far as God's intent is to work through you as opposed to someone else! As Mordecai said, if Esther didn't step up and do what was needed, God would bring deliverance through another person. God will get done what he wants to get done, but if you aren't going to cooperate, he'll change his intent to work with you and work with someone else! Gratitude keeps our focus on God as the one who will continue to bless us and work through us.
Gratitude in Action
Here's a vivid description of gratitude in action.
When one of the Pharisees invited Jesus to have dinner with him, he went to the Pharisee's house and reclined at the table. A woman in that town who lived a sinful life learned that Jesus was eating at the Pharisee's house, so she came there with an alabaster jar of perfume. As she stood behind him at his feet weeping, she began to wet his feet with her tears. Then she wiped them with her hair, kissed them and poured perfume on them. When the Pharisee who had invited him saw this, he said to himself, "If this man were a prophet, he would know who is touching him and what kind of woman she is—that she is a sinner."…Then Jesus said to her, "Your sins are forgiven."
Luke 7:36-39 & 48

As leaders, we can learn some valuable lessons.
This woman had either already met Jesus or she was very well aware of his reputation as a friend of sinners, people like herself. Either way, she was overwhelmed by the magnitude of his love and concern. She wasted no time going to meet him, because he was already at dinner when she heard he was there, and he was still there when she arrived.
She was courageous. Just think about it – a known sinner, most likely a prostitute – somehow bursts into the house of a Pharisee and gets right to the guest of honour! Nobody would be more antagonistic towards her presence than a Pharisee, and yet she went anyway!
She wouldn't have had time to go shopping for a gift, so she brought what she had, a jar of perfume. Given her likely work as a prostitute, her gift was probably a tool of her trade – and yet Jesus accepted it anyway!
She was a remarkable woman, full of gratitude. In response to her display of gratitude, Jesus said "Wherever the gospel is preached throughout the world, what she has done will also be told, in memory of her."1 I believe the reason Jesus said this was because of how spontaneous and generous she was in showing her gratitude.
As ministry leaders, we need to be like this woman, living with deep, heart-felt gratitude for the enormous blessings that God has poured out upon us. God put you where you are, entrusted you with stewarding his resources, people, relationships and opportunities, and then enabled you and your team to produce the fruit which comes from your work. Praise God!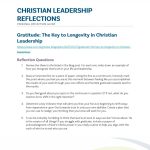 Our Gratitude
To help you develop your gratitude to be just as deep and heartfelt as the woman who washed Jesus' feet in the Pharisee's house:
Watch this classic video of Zig Ziglar telling how he explained to a woman who hated her job and who could think of nothing to be grateful for, how many things about her job could make her feel grateful. Apply Ziglar's approach to your own life, and you'll find many more things to be grateful for than you might think of at first.
Read the wonderful book, One Thousand Gifts to help you appreciate God's many blessings which you might easily overlook.
Practice expressing your gratitude by regularly thanking God for various blessings, and by giving credit to him as you speak about your ministry's achievements.
My prayer for you is that you will be aware of all that God has done to bring you to leadership and achieve the results you have, and that your gratitude will keep you humble and in a place where you can continue to be a fruitful servant of God.
More from Christian Leadership Reflections
Latest
Categories
Tags
Series