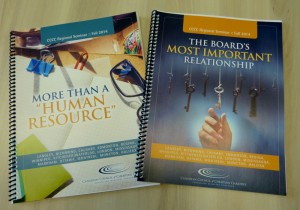 CCCC is traveling to 14 cities across Canada from September to November with two practical, affordable seminars. Our seminar series will kick off in Markham, Ontario on September 15th. You can view a full list of upcoming dates and locations here.
Both seminars offer hands-on training and plenty of take-away material:
More Than a "Human Resource" provides a Christian perspective on the three key aspects of an employment relationship: hiring, employee development & care, and parting. Participants will walk away with several sample templates and policies, including a sample job description, a sample sick leave policy, and a sample employment contract. This seminar is recommended for ministry leaders, managers, pastors, and church administrators.
The Board's Most Important Relationship highlights the best practices of building and maintaining a vibrant, trusting, and healthy relationship between boards and senior leaders. Board chairs, pastors, executive directors, and members of Christian churches and agencies will benefit from this seminar's practical takeaways.
Pricing Per Seminar
CCCC Member: Early $35.00 (Late $45.00)
Non-Member: Early $45.00 (Late $55.00)
(Late rates apply to registrations received less than one week prior to the respective seminar.)
We'd love to have you join us!
More from CCCC Community News & Events
Latest
Categories
Tags
Series