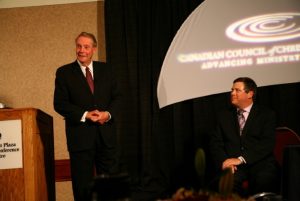 "David was a pioneer for evangelical ministry—he was a visionary," remembers John Pellowe, CEO of Canadian Council of Christian Charities (CCCC).
Televangelist, evangelical leader, and founder of Crossroads Communications Inc., David Mainse passed away on September 25, 2017 at 81, after a five-year battle with MDS leukemia. He spent more than half a century making the Gospel accessible in people's homes and lives.
As host of the Christian talk show 100 Huntley Street, which launched in 1977, he served alongside his wife, Norma-Jean, who at the time produced the live, daily, 90-minute telecast.
On His Knees, Praying
According to Crossroads, "It was David's idea to have 24/7 telephone prayer lines staffed by volunteers to offer support to viewers." Since 1989, Crossroads Christian Communications Inc. has adhered to the CCCC Standards of Organizational Accountability and Integrity.
John Pellowe remembers fondly an encounter with David in the early 1980s. The family of John's wife, Loron, formed a bluegrass Gospel band, and they were set to perform on 100 Huntley Street.
"Hours before filming," John shares, "I was walking down a deserted hallway towards the studio, and I heard a bold, loud voice praying in tongues and English for the show."
The voice was David's. "What impressed me," John continues, "was that when the halls were empty, when there were no cameras, there David was—on his knees, praying."
Speaking of his integrity, John remembers, "He was rock solid, willing to be in accountability relationships such as the one his ministry had with the Canadian Council of Christian Charities Certification program."
Integrity at Every Step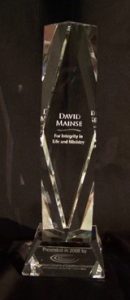 A ministry in which John and Loron were personally involved, Seeds International, was to be featured on 100 Huntley Street, in a fundraising segment of the show. John was impressed that before the television program agreed to feature Seeds, it examined the ministry's trustworthiness.
To honour 100 Huntley viewers, donors, and the recipients of donations, internal auditors from Crossroads Christian Communications worked to ensure that funds raised were used appropriately.
John recalls their "commitment to integrity at every step in the chain." Such integrity was reflected throughout David's life.
Everything Minus Integrity Equals Nothing
In 2008, CCCC presented to David an award in appreciation of a lifetime of personal and ministry integrity.
At the ceremony, David's "E-I=0" formula was shared: "Everything minus integrity equals nothing."  David's integrity as a husband, father, and ministry leader has produced much fruit.
David's integrity can be attributed, at least partially, to four of his traits: servanthood, righteousness, humility, and openhandedness.
Being a servant, David allowed the Lord to lead, following God's plans and trusting Him to provide. David knew that results come by the Holy Spirit's work, not his own.
David's call to evangelism and to building up the entire Church led to a generous openhandedness and a win/win attitude.  He wanted his supporters to remain faithful to their own local churches, saying that God's main address on Earth is the local church.
We praise God for what He has done through His servant, David Mainse.
As of September 2017, 100 Huntley Street
has had more than 10,300 broadcasts;
has featured more than 16,000 guests;
has processed more than 11 million telephone calls from people seeking prayer;
has an on-air average weekly reach of more than 1.3 million Canadian viewers.
(source: Crossroads Communications)
More from CCCC Community News & Events
Latest
Categories
Tags
Series