Authored by: Curtis Towns, Head of CCCC Accreditation
As we near the end of the year, many Canadians consider giving to charity. Whether it be sparked by GivingTuesday (Nov 30), the culture of generosity highlighted around Christmas, or the upcoming tax season, many Canadians give a large percentage of their annual donations this time of year.
With thousands of registered charities in Canada, it can be challenging to decide which charities to support. Before discussing selection strategies, let's take a look at some of the current giving trends.
Canadian giving trends
Each year, CanadaHelps prepares The Giving Report.1 In the research for the 2021 report, it is estimated that, in 2020,
online giving grew 86% (year over year)
while it is projected that overall giving declined 10% (year over year).2
Despite some individual charities experiencing increases, the overall decline in giving is of concern for a sector that contributes significant value to the wellbeing of Canadians and people around the world every day. A decrease in giving can also have a notable impact on employment since the sector employs 10% of the Canadian workforce.3
Donation numbers are just part of the story
Throughout the past year, I have had the joy of having inspiring conversations with hundreds of CCCC member charities. While it is encouraging to hear words of thanksgiving about how the Lord has provided much-needed finances through the generosity of donors, something else has consistently stood out. I have been moved to hear how ministries have implemented innovative and creative approaches to their work. For many, it has come at deep personal sacrifice to ensure that their important work thrives and advances its eternal impact. If you know someone who works or volunteers in this sector, be sure to thank them.
Strategies for selecting charities to support
So how does an individual decide which charities to support? We have provided some tips on choosing a charity to support on our website for donors, giveconfidently.ca. Among these tips, donors are encouraged to:
Pray
Explore the charity's values & strategy
Review ministry information
Talk to the charity's representatives
Look for third party accreditation or other accountability measures
Get involved in the charity's work
Give once (give it a try)
CCCC Accredited members are exemplary charities
There are thousands of charities in Canada, and thousands that participate with CCCC as Affiliate Members. Many of these charities are doing excellent work and worthy of your support. Using the strategies above, I encourage you to consider contributing to charity this season!
What does CCCC Accreditation signify?
CCCC's nearly 200 Accredited Members have publicly committed to CCCC Standards and invited CCCC representatives to robustly review internal documents and policies to confirm compliance with over 50 requirements of the CCCC Standards. The Accreditation process strengthens these exemplary charities and provides confidence to stakeholders.
Once awarded CCCC Accreditation, these exemplary Christian ministries are featured on giveconfidently.ca. When choosing which charities to support, look for the CCCC Accredited Member logo.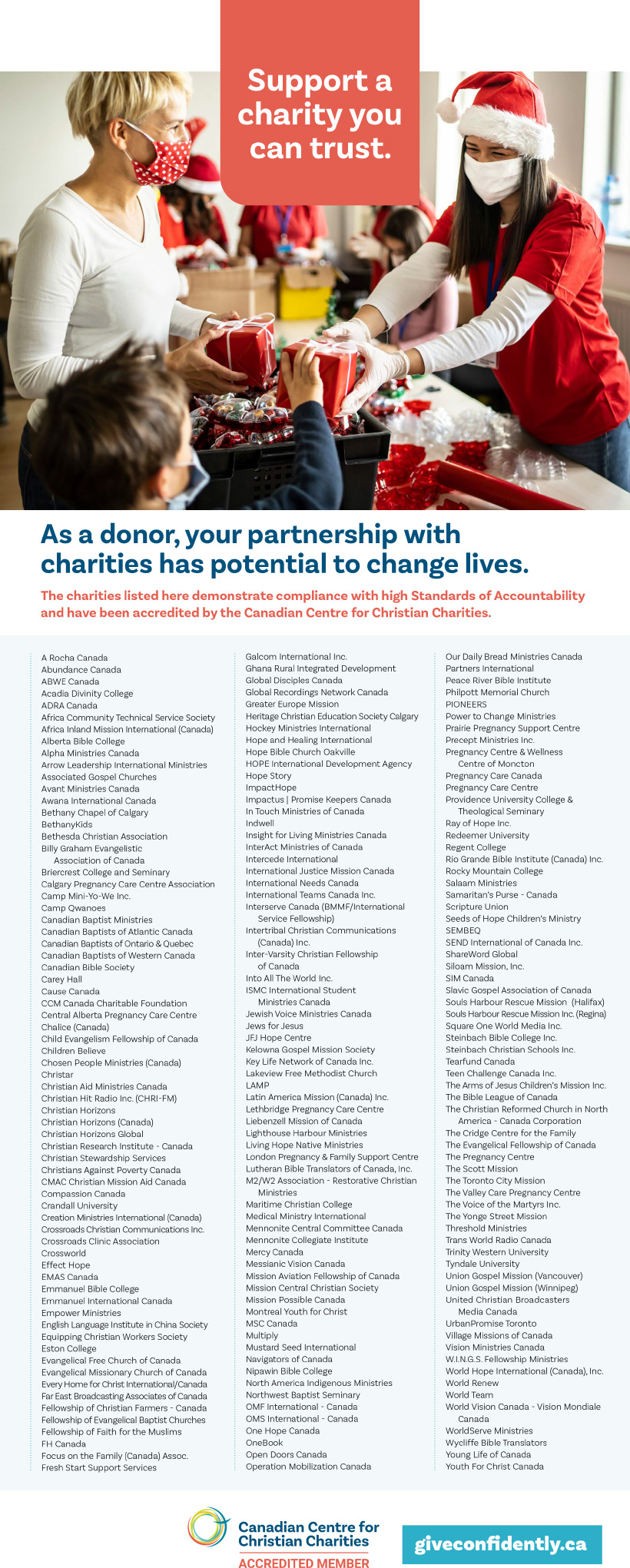 ---
1 https://www.canadahelps.org/en/the-giving-report/
2 https://www.canadahelps.org/en/the-giving-report/
More from CCCC
Latest
Categories
Tags
Series