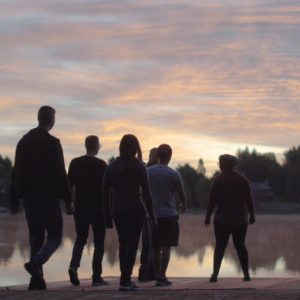 The Canadian Centre for Christian Charities (CCCC) exists as a specialized resource for Christian churches and ministries to help them build great organizations to support their mission work.
Our vision is that every Canadian Christian organization will be an exemplary, healthy, and effective Christian ministry. What does that look like? Let's break our vision down.
Exemplary
An exemplary ministry provides a compelling example of an organization operating with excellence in its life and work.
The ministry has an impeccable way of being. Every part of the ministry's organization is precisely designed to fulfil the ministry's mission with excellence.
A ministry's organizational life and work are models for best practices.
The ministry researches, experiments, innovates, and advances its field of knowledge for the good of the Christian cause.
The ministry is visionary, bold, and innovative, confidently finding its own way to be relevant and practical in pursuing its mission.
Healthy
A healthy ministry is well-resourced with an ongoing flow of people, money, and strategy so it is indefinitely sustainable and primed for growth.
The ministry's board and senior leadership fulfil their functions faithfully.
The ministry has a winning strategy that cares for the organization, is authentically Christian, and that engages with other ministries.
The ministry's people flourish under skillful team leadership that promotes teamship, care, and development.
The ministry has the financial resources, people, and assets it needs to carry out its mission.

Effective
An effective ministry gets the right things done. Effectiveness is evidenced by every part of the ministry accomplishing its intended purpose and the ministry regularly making progress in fulfilling its mission.
The ministry is insightful, reflective, and judicious in how it fulfils its mission.
The ministry's plans address corporate ethos and strategy, required workforce expertise, performance standards, and objective milestones.
The ministry's plans are supported by strong project management, quality management, and rigorous evaluations that ensure internal systems produce high-quality output.
The ministry's commitment to its mission is so strong that it is resilient and ready to adapt to new circumstances at any time.
Christian
A Christian ministry provides an attractive, authentic witness to Christ's values and character because it is distinctively Christian in all aspects of organizational life.
Christian core values, beliefs, and attributes are central to the ministry's life and are actively safeguarded from being lost.
The ministry ensures its mission is explicitly tied to the Christian faith so that, even when there are secular charities with similar missions, the distinctiveness of the Christian mission is readily apparent.
The ministry's leaders think theologically and follow the Spirit, knowing that God sometimes gives his ministries a vision so large that only God can fulfil it.
The ministry uses Christian spiritual practices, including group spirituality, to integrate faith and work.
The ministry models life in the kingdom through righteous behaviour, a servant's heart, and a community spirit.
CCCC will consider that its purpose and its vision have been fulfilled to the glory of God when every Canadian Christian organization is an exemplary, healthy, and effective Christian ministry.