When the success of your government grant application depends on agreeing with a government opinion, then there is bound to be a fuss. Canada is a democracy and Liberal democrats, by definition, do not take government-imposed opinions lightly.
The Canada Summer Jobs is a government program that funds non-profits, small businesses and charities to hire summer students. It is designed to give young people quality work experience to enhance their careers. This year, the government required organizations to declare their agreement with the government regarding abortion.
It has been alleged that "[r]eligious organizations and editorial writers have sown confusion about [this] new eligibility criteria . . ." The confusion (and there has been plenty) is not from religious organizations and editorial writers but from the government itself.
Read more of Barry's Op-Ed in Canadian Lawyer Magazine.
Share this post. Let people know. Encourage them to subscribe.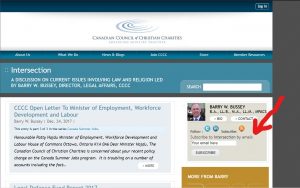 More from The CCCC Blog
Latest
Categories
Tags
Series