https://www.facebook.com/lawandreligionCanada/videos/2080415168838007/
Brief Facts:
Mr. Wall was found by his church to have violated their teachings and was disfellowshipped for not being sufficiently repentant. His loss of membership meant his former co-congregants would no longer do business with him as a real estate agent. His business suffered to the point of bankruptcy. He took his church to court and asked that the church's decision be overturned because it was not properly made – in legal jargon, that is called "procedural fairness." Immediately, the church took the position that courts have no right to interfere with membership decisions and religious beliefs. The Supreme Court agreed.
Decision:
Justice Malcolm Rowe wrote the decision in clear and unambiguous language: these types of cases are of no concern of the court. Judicial review is limited to public decision makers, which the church is not. The church was not operating as a public authority. He also pointed out that procedural fairness can only apply if there is a legal right at issue, such as a contract. Finally, Rowe made it clear that when it comes to church issues – whether procedural or theological – that is not the bailiwick of a civil court.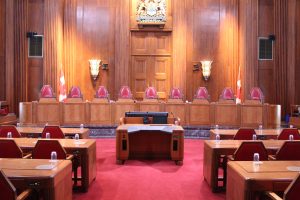 Key Quotes:
"Judicial review is only available where there is an exercise of state authority and where that exercise is of a sufficiently public character." (Para. 14)
"Thus, by its nature, a private Act is not a law of general application and its effect can be quite limited…. For instance, The United Church of Canada Act … gives effect to an agreement regarding the transfer of property rights (from the Methodist, Congregationalist and certain Presbyterian churches) upon the creation of the United Church of Canada; it is not a grant of statutory authority." (Para. 18)
"In my view, a decision will be considered to be public where it involves questions about the rule of law and the limits of an administrative decision maker's exercise of power. Simply because a decision impacts a broad segment of the public does not mean that it is public in the administrative law sense of the term. Again, judicial review is about the legality of state decision making." (Para. 20)
"Thus it does not follow that 'public' decisions of a private body — in the sense that they have some broad import — will be reviewable. The relevant inquiry is whether the legality of state decision making is at issue. The present case raises no issues about the rule of law. The Congregation has no constating private Act and the Congregation in no way is exercising state authority." (Paras. 21-22)
"Indeed, there is no free standing right to procedural fairness with respect to decisions taken by voluntary associations. Jurisdiction cannot be established on the sole basis that there is an alleged breach of natural justice or that the complainant has exhausted the organization's internal processes. Jurisdiction depends on the presence of a legal right which a party seeks to have vindicated. Only where this is so can the courts consider an association's adherence to its own procedures and (in certain circumstances) the fairness of those procedures." (Para. 24)
"Mr. Wall had no property right in maintaining his client base. As Justice Wakeling held in dissent in the court below, Mr. Wall does not have a right to the business of the members of the Congregation." (Para. 30)
"In addition to questions of jurisdiction, justiciability limits the extent to which courts may engage with decisions by voluntary associations even when the intervention is sought only on the basis of procedural fairness. Justiciability relates to the subject matter of a dispute. The general question is this: Is the issue one that is appropriate for a court to decide?" (Para. 32)
"There is no single set of rules delineating the scope of justiciability. Indeed, justiciability depends to some degree on context, and the proper approach to determining justiciability must be flexible. The court should ask whether it has the institutional capacity and legitimacy to adjudicate the matter." (Para. 34)
"By way of example, the courts may not have the legitimacy to assist in resolving a dispute about the greatest hockey player of all time, about a bridge player who is left out of his regular weekly game night, or about a cousin who thinks she should have been invited to a wedding." (Para. 35)
"As this Court held … the Charter does not apply to private litigation. Section 32 specifies that the Charter applies to the legislative, executive and administrative branches of government…. The Charter does not directly apply to this dispute as no state action is being challenged, although the Charter may inform the development of the common law…. In the end, religious groups are free to determine their own membership and rules; courts will not intervene in such matters save where it is necessary to resolve an underlying legal dispute." (Para. 39)
Commentary
This decision has laid to rest the idea that just because a religious body is incorporated through a "Private Act" of a provincial or federal legislature it thereby has statutory authority to act as if it were government. Justice Rowe was very clear. Such Acts are limited, and they have not passed on to the entity legislative authority. This is a crucial finding as there have been many cases over the years that have made the suggestion that incorporation through a private act confers state authority. Now we know that such reasoning is not valid law. A church is not a state actor.
Because a church is not a state actor, its decisions cannot be presumed to be reviewable by the courts. A court, as Rowe made clear, can only review a public body or intervene where there is a legal right between the disputing parties, such as a contractual right. No such right existed here. The church was not a state actor and there was no other legal right between the parties that the courts should be concerned about.
Another interesting distinction that Justice Rowe made was on the issue of what is "public." Under administrative law, "public" refers to the government and its actions; in a generic sense, "public" may also be used to mean a broad segment of the population. This is an important issue for religious communities because there is a view that anytime a religious community gets involved in the "public," such as running schools or universities, then it must be considered as a public actor subject to the Charter. Of course, such entities do have to follow government regulations if they are licensed by the government, but to suggest that they are, in fact, government actors is taking it a step too far.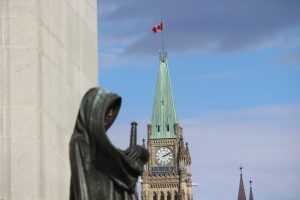 This has relevance for the Trinity Western University Case. Will the Court say that TWU is a "state actor" because it runs a university? Will it conclude that while TWU is not "directly" subject to the Charter it might be "indirectly" because of the Law Societies' regulation of law schools? We wait with great anticipation for the TWU decision which could come as early as next week.
Finally, the court has made it clear that when it comes to voluntary organizations such as churches, there is no automatic entitlement to go to court and argue that the organization's decisions were unfair. For a court to review a decision of an organization there must be an underlying legal right that supports that claim, such as a contract. Where no such right exists, a voluntary organization is free to make decision as it sees fit, without having to worry about a judicial review from the civil courts. This gives voluntary organizations a lot of breathing space.
Justice Rowe used the phrase "institutional capacity and legitimacy" for good reason. Courts are not equipped or qualified to settle internal religious disputes. Nor do they have the time.
As Rowe said, "In the end, religious groups are free to determine their own membership and rules; courts will not intervene in such matters save where it is necessary to resolve an underlying legal dispute."
This is a great decision for the religious and voluntary community in Canada.
Read the decision here: Jehovah's Witnesses v. Randy Wall
Intersection Moments video of January 2018 discussing the case