The 2021 federal election is just around the corner, on Monday September 20. Voters across the country will cast ballots to determine who will govern the nation.
To give everyone an opportunity to vote, the Canada Elections Act (CEA) requires that eligible voters have three consecutive hours to cast their vote on election day (s.132(1) CEA).
Three Hour Window to Vote
This means employers must make sure work hours allow employees a three hour window to vote.
If an employee's hours of work don't give a three-hour window, the employer must give the necessary time off to create a three-hour window. There is a narrow exception for transportation companies (s 132(3)).
Employers can choose when the time off will be given.
How It Works
Not sure if you need to give your employees time off? Three simple questions will help you figure it out:
What are the voting hours in your employee's riding?
What are your employee's work hours?
Do the work hours allow a 3-hour window to vote?
If there is already a 3-hour window, employer's don't have to give extra time off.
If there is not a 3-hour window, employers do have to give time off to create that 3-hour window.
Examples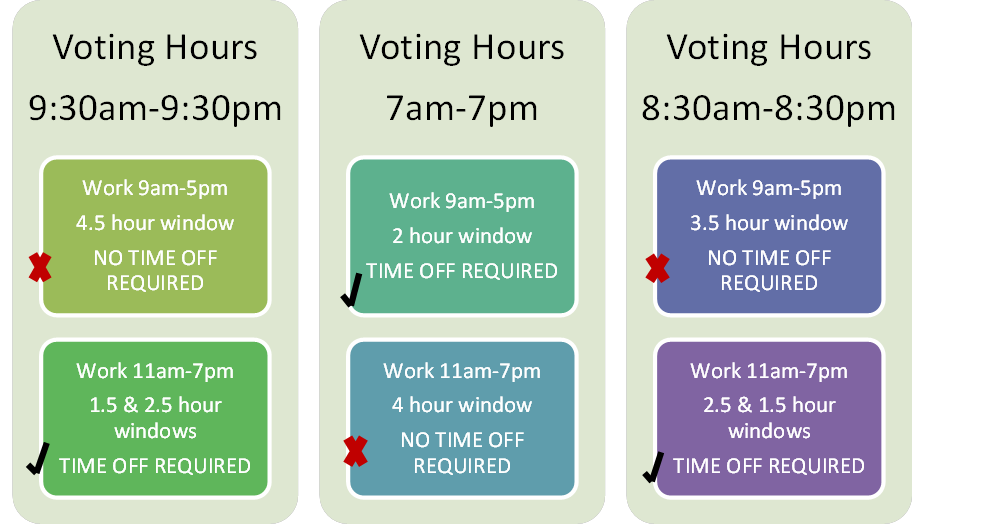 Penalties & Fines for Employer Non-Compliance
Employers cannot deduct pay or impose any penalty on an employee for time off given to vote.
Employers who fail to provide time off, deduct pay, or impose penalties can be prosecuted (s 489(1)(a)). Punishment is a maximum fine of $2,000 and/or three months in prison (s 500(1)).
Need More Info?
If you need more information about ridings (maps, polling stations), voting hours, and candidate lists, check Elections Canada where all of the official elections info can be found.
Noteworthy is provided for general information purposes and does not constitute legal or professional advice. Every organization's circumstances are unique. Before acting on the basis of information contained in this blog, readers should consult with a qualified lawyer for advice specific to their situation.
More from Noteworthy
Latest
Categories
Tags
Series