Authored by Deina Warren, Associate Director, Legal Affairs
Election day is almost here. On October 21st, Canadians will go to the polls to choose the next federal government. According to Elections Canada estimates, voters set a new record at the advance polls this year, with approximately 4.7 million ballots cast. That's a 29% increase from the 2015 election!
Even so, that still leaves a lot of votes and voters. What do you need to know about time off to vote? The Canada Elections Act ("CEA") requires that:

It is a pretty straightforward process to determine if an employer needs to provide time off. Start by asking:
What are the voting hours in the employee's riding?
What are the employee's work hours?
Do the work hours allow for a 3-hour window for voting?
If an employee's work hours do provide for a three hour window before or after, the employer does not have to provide time off. If an employee's work hours do not provide for a three hour window, the employer does have to provide time off. The employer gets to choose how and when to accommodate the three consecutive hours (s.132(2) CEA).
Here are a few examples: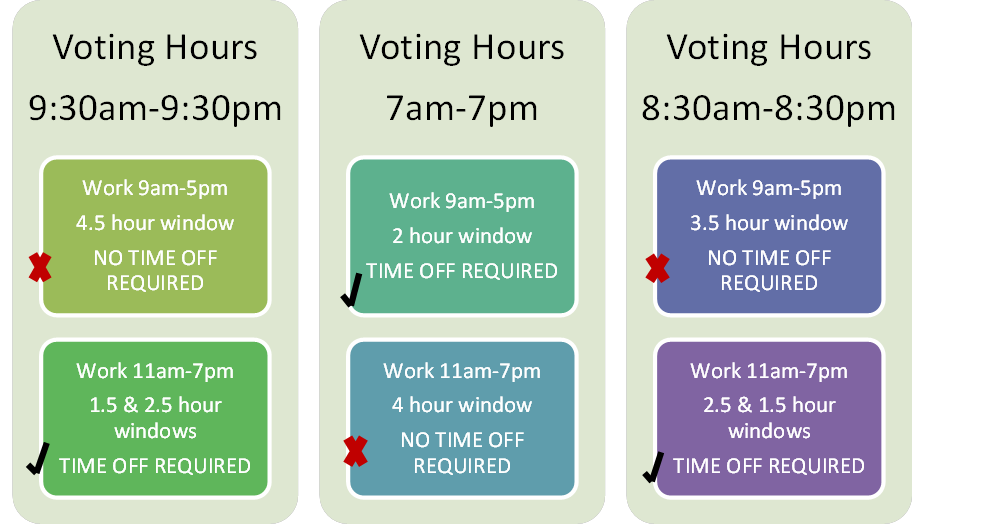 Failure to provide time off and imposing a penalty or pay deduction are prohibited (CEA s 133(1)), subject to prosecution (CEA s 489(1)(a)) and punishable by a fine of no more than $2000 and/or three months in prison (CEA s 500(1)).
Employees are also prohibited from trying to interfering with employees' three hour voting window, whether by intimidation, undue influence or any other means (CEA s 134). This action is also subject to prosecution (CEA s 489(3)(a)) and punishable by a fine of up to $50,000 and/or up to five years in prison (CEA s 500(5)).
One exception is for employees in the transportation industry (land, air or water) who are employed outside of their polling division, and where additional time off can't be accommodated without interfering with the transportation service (CEA s 132(3)).
For more information on the upcoming election, where you can vote, polling station accessibility, polling station hours, and other key facts, see Elections Canada 2019 Election page.
Noteworthy is provided for general information purposes and does not constitute legal or professional advice. Every organization's circumstances are unique. Before acting on the basis of information contained in this blog, readers should consult with a qualified lawyer for advice specific to their situation.
More from Deina
Latest
Categories
Tags
Series