Without members, there would be no CCCC!
On October 12, 1972, the seven founding board members agreed to establish a body that would serve Christian ministries and churches with information and training in administration, fundraising and the managing of other resources.
The name chosen for this ministry was Canadian Council of Christian Charities. The minutes of the inaugural meeting listed the following as the goals for the new organization:
Conducting of Christian stewardship seminars across Canada for charitable organizations.
Disseminate information relevant to member organizations.
Act as a voice in Ottawa and provincial capitals providing guidelines in formulating new legislation.
Provide or act as a catalyst in providing courses for development of stewardship representatives at college or university levels.
Conducting of local church seminars on Christian stewardship.
It was decided that the constituent members to be served by CCCC should be Christian organizations but without excluding secular organizations. It was recognized that "much of the material which will be produced by CCCC will be relevant to all organizations in the charitable field whether Christian or secular."
Membership would begin for the calendar year 1973. The fee was set at $100.00 per annum.
For the calendar year 1976, the annual membership fee was raised to $125. Membership had increased to 73 organizations. It was in this year that serious discussion began about hiring a full-time executive director, though it did not actually happen until 1984.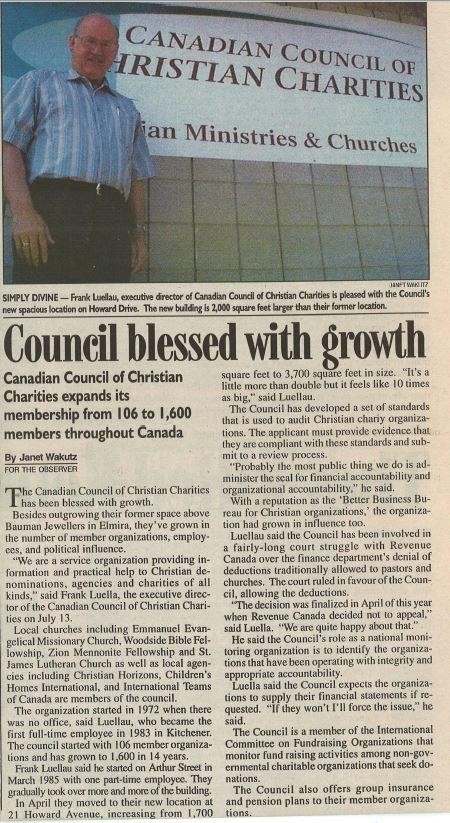 Always looking for meaningful ways to serve members, in 1982 CCCC decided to offer an accreditation program for Christian ministries, along the lines of the Evangelical Council for Financial Accountability (ECFA) in the United States. Information and application forms were sent to CCCC members in fall of 1983, and in March 1984 the program formally began, with 43 Certified members. Today, nearly 200 CCCC members are Accredited!
Overall membership significantly and consistently grew in subsequent years. In the decade between 1988 and 1998, membership grew from 229 to 1201 charities! Five years later, membership had again grown, almost doubling from 1201 to 2230 member charities.
To support as many charities as possible, membership fees are carefully and thoughtfully set. In 2009, most members paid a fee of $180, which is equivalent to $39 in 1973… so the real cost of CCCC membership actually dropped significantly over the span of 36 years!
Today CCCC has over 3,200 members representing ministries across Canada. Two-thirds of our members are local churches; the rest are denominational offices and every kind of specialized ministry you can imagine: education, evangelism, relief and development, camps, youth, inner-city, and more! Member charities are doing an immense range of good work. The Accredited members have self-reported doing work in the following areas (and this is not an exhaustive list):
Adoption/Fostering
Advocacy
Apologetics
Bible Distribution
Bible Teaching
Bible Translation
Camps
Children's Evangelism and Discipleship
Christian Broadcasting
Christian Literature
Church Planting
Clothing
Counselling
Creation Care
Denominational Offices
Discipleship
Donor-Advised Funds
Education
Emergency Response
Employment
Environmental
Evangelism
Food Security
Healthcare
HIV/AIDS
Hospitals
Housing
Human Rights
Human Trafficking and Slavery
Indigenous
Languages
Leadership Training
Marriage Support
Meals
Missions
Peacebuilding
Places of Worship
Prayer
Pregnancy & Parenting Support
Prison Ministry
Rehabilitation
Relief and Development
Relief of Poverty
Religious Liberty
Schools
Senior's Care and Support
Spiritual Development
Sports Outreach
Stewardship Resources and Training
Support For People With Special Needs
Surgeries
Sustainable Agriculture
Transitional Housing
Urban Ministry
Water
Youth Ministry
We know that it takes a lot to run these ministries well: good leadership, fundraising, governance, HR, finance, and more! CCCC is here to support members with ongoing knowledge, training, and services in these areas so ministry staff can spend more time doing what God has called them to do.
We are so grateful for our partnership with members and it's our joy to support you in your ministry!
More from The CCCC Blog
Latest
Categories
Tags
Series