A bisexual Muslim, who swore allegiance to ISIS, walked into an Orlando gay club that he frequented and indiscriminately shot and killed 49 people, injuring 53 others. It was a heinous crime, the like of which we've never seen before in North America.
How then, based on this shooting, does one reach the conclusion that Trinity Western University, a Christian university in Langley, B.C., should not have a law school because of its religious commitment to traditional marriage?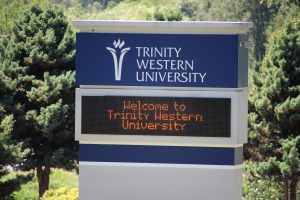 That is the nub of a recent Huffington Post piece by Elaine Craig, an assistant professor at the Schulich School of Law. She admits that the motivation of the Orlando shooter is "complicated," but nevertheless draws a line directly from Orlando, Florida, to Langley, B.C. It is a direct and unfair juxtaposition of two very different matters, in two very different countries, that have no connection.
We must unequivocally stand against any social license that would allow sexual minorities to be beaten, raped, or murdered. It is outrageous. Period. However, to suggest that a law society recognizing a graduate of TWU's School of Law condones an environment of violence against sexual minorities simply does not follow.
It is unsubstantiated fear mongering, and it is doing the very thing deemed unacceptable. That is, creating a negative environment for a minority—evangelical Christians. Craig's message is this: Christians are so horrible, and so bigoted for having a private university that upholds traditional marriage, that they are to blame for creating an environment like that which led to the Orlando bloodbath.
Christians are beaten, raped, and violently murdered because of their religious beliefs and practise in many Muslim and Hindu countries. Could we say therefore that a Canadian government that issues a license to a Muslim or Hindu school in Canada is condoning an environment of violence against Christians? It is a preposterous suggestion.
The law societies have no prerogative to deny approval to a law school based solely on religious beliefs and practices. Especially when such belief and practise is not against any Canadian law or public policy and has absolutely nothing to do with the quality of the legal education. TWU, as the Supreme Court of Canada held in 2001, is not subject to, but has the protection of, the Charter and the human rights legislation in B.C. It is a Christian institution, governed by Christian norms—not the norms of the Canadian government or of Canadian society generally.
Not once has there been violence against sexual minorities at TWU. Not once has there been a TWU graduate who was violent against a sexual minority. Nor has any TWU graduate in its history ever had a complaint lodged against them for such discrimination.
It is unfair and unjust to make the illogical leap that Professor Craig has made, suggesting that TWU is creating an environment, "whether intentionally or inadvertently," that would encourage Orlando-style violence. Professor Craig has every right to disagree with TWU's policy. She does not have the right to suggest that TWU is in any way responsible for violence against sexual minorities. It is beyond the pale.
Professor Craig suggests a further parallel between Orlando and TWU. Reaching into a completely different legal environment, she opines that the American second-amendment right to bear firearms is a constitutional right "run amok." This American right allowed the killer to buy an assault rifle. Somehow, that constitutional right "run amok" is comparable to the Canadian religious freedom right that would have a public body to accredit a religious institution.
There is no analogy between Orlando and TWU: the Orlando killer had a right to buy the rifle—but he did not have the right to kill and maim the club's patrons. Unlike practicing one's religion, killing and maiming people is not a constitutional right.
No one is required to attend TWU. It is a private school. Its admissions requirements are, according to the Supreme Court of Canada, perfectly legal and are, according to the Civil Marriage Act, not against Canadian public policy. Killing people, like in Orlando, is against Canadian public policy. It's also diametrically opposed to Christian teaching. Christians are mandated to love and respect all human beings—gay or straight, rich or poor, black or white, religious or non-religious—because they are made in the image of God. There can be no parallel here between the Orlando killer's constitutional right to bear arms and TWU's right to religious freedom.
Professor Craig supports the view that equality must trump religious freedom in the TWU case. She allows no space for religious universities that do not accept her definition of equality. Further, she fails to recognize that religious freedom is not only the right to believe, but also to practise that belief. The Supreme Court of Canada in 2001 made it very clear that TWU's admissions policy does not violate Canadian law. Instead, the Court said "the diversity of Canadian society is partly reflected in the multiple religious organizations that mark the societal landscape." "This diversity of views," said the Court, "should be respected."
Professor Craig does not respect a diversity of views. It is obvious she will accept only her own view and she demands the same of the courts and the government. If we accept that government must investigate the beliefs and practices of everyone, and every institution that seeks a government license to ensure compliance with government views, what are the limits? Does it make sense to have the government ask me what my religious views and practices are on marriage when I apply for a drivers' license? What about a license to operate a nursing home? What about the practice of accounting? Of medicine?
Is the government condoning my religious views if they grant me such a license? I think not. Once government purports to control, there is no more diversity. There will be equality, though—because everyone will be mandated to have the same view. Then again, maybe it is uniformity we will have and not equality. That is far from tolerant. That is far from freedom.
Now it is time for the Courts of Appeal in Nova Scotia, Ontario, and British Columbia to decide the case. The Ontario Court of Appeal will be releasing its decision tomorrow morning, June 29. We wait with anticipation as to whether the Ontario Court will agree with the Supreme Court of Canada's 2001 decision that supports "the diversity of Canadian society" "reflected in the multiple religious organizations that mark the societal landscape."
More from The CCCC Blog
Latest
Categories
Tags
Series