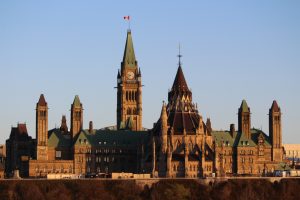 December 6 Update
A news report was published today stating that the government has changed the wording of the Canada Summer Jobs application form so that "pro-abortion beliefs to funding eligibility is being dropped." However, we have yet to receive the final wording on the federal government's 2019 Canada Summer Jobs attestation requirement.
I am looking forward to receiving a copy of the wording to ensure it is wording our members will be comfortable in signing when they apply for the 2019 program.
Last year, about the same time as now, the government put forward a requirement that applicants were required to endorse a statement saying that they agreed with the government's position on abortion and other undefined "Charter values." That led to a massive protest throughout the country among many religious charities, including CCCC's members. We simply could not, in clear conscience, recommend our members sign on, as it was an imposed "values test." We organized a campaign, along with other organisations including the Roman Catholic Archdiocese of Toronto, Christian Legal Fellowship, and the Evangelical Fellowship of Canada, against this policy.
It took a while, but eventually the government began to listen to our concerns. Unfortunately, the government refused to modify the language for the 2018 program. As a result, over 1500 charities refused to "check the box" and many more chose not to apply at all. Changing the language for 2019 is definitely a step in the right decision.
It is pleasing to know that the government is making moves to remove last year's offending language. The media reports that the new language will "require applicants to declare they don't work to infringe on any Canadian's legal rights." No organisation that I am aware of has ever sought to remove or infringe on anyone's legal rights. They simply want to be able to go about doing their charitable work without the government imposing its worldview on them.
The report also states that the changes will "disqualify any project or summer job that tries to restrict access a woman's ability to access sexual or reproductive health services. Other disqualifying traits include jobs that restrict the exercise of human rights or that discriminate based on sex, religion, race or ethnic origin."
Again, I have not seen any charity do these kinds of things, either. What we do know is that abortion advocates were upset over the fact that groups who oppose abortion on principle were receiving government money. The government responded to the complaint by making such a broad generalization it resulted in confusion and unnecessary stress on religious charities that had nothing to do with abortion or removing anyone's "rights."
Here's hoping that the 2019 policy will be something that all Canadians of goodwill can support. We will find out soon. Stay tuned.