Last week's post was about my favourite non-Christian leadership book. This week I'll feature my favourite Christian leadership book, Shepherds After My Own Heart: Pastoral Traditions And Leadership In The Bible
by Dr. Tim Laniak. The book helped me understand what God desires of those who lead his people. It is a thoughtful, biblical and theological exploration of what leadership really is in the eyes of God. It has great implications for how you think about yourself as a Christian leader and how you approach your leadership responsibilities from a Christian perspective. Laniak's insights are equally applicable to pastors and to leaders of Christian agencies.
Several pastors who reviewed the manuscript reported that they felt a profound change in their sense of identity as they became more connected to the historic plan of God for his people, felt awed that they were called to serve the Great Shepherd, and developed a new regard for their vocation. I finished the book with a much deeper appreciation for the leadership role I have been given and the tremendous responsibility to fulfill it in a godly way. I felt some sympathy for Paul's exhortation to work out our salvation with fear and trembling (Phil 2:12), which basically means to be in awe of God. It is the same sense of awe that Martin Luther said caused his knees to knock every time he entered a pulpit to preach. Leadership of any portion of God's people is serious business!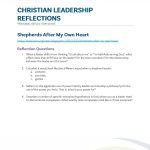 Great Christian Leadership Book
Here's why I like the book so much:
For readers not used to academic writing, this book is an excellent introduction to the depth of thought that comes from theologians who have spent years reflecting on their topics. Some people dismiss academics and prefer practitioners, but I've found both books and lectures by academics to be refreshing, insightful and deeply satisfying. You just know when you are finished that you have grown in your spiritual development.
The book traces the shepherd-leader metaphor from Moses and David through the Old Testament prophets and writings to the shepherd imagery of the Gospels, Peter and Revelation. While there are other metaphors of leadership in Scripture, the shepherd metaphor is powerful and Laniak uses it to focus on what God expects of his leaders. This book, above all else that it does, helps us understand that our role as a leader is to identify as a member of the people we lead and to be God's human agent to help them live faithfully as the people of God. You can't read this book without coming to realize that your leadership is not about you, or about being in a position over the people you lead. It is about you faithfully serving God in order to lead his people as God desires.
How does a leader provide godly leadership? Well, Laniak says that God protected and delivered Israel while providing for them and guiding them forward. That's a good leadership model: protect, provide and guide.
The key exemplars for shepherd leadership in the Old Testament are Moses and David, and the book helps us to learn leadership as they learned it.

We see the journey to true leadership as Moses acts independently and impulsively to lead his 'own' people (Exo 2:11) and then grows to fully identify with them as God's people. He comes to realize that he is not only their leader, but also their representative before God.
David learns a painful lesson that he is supposed to protect his people, not sacrifice them for his personal pleasure. In his escapade with Uriah and Bathsheba, he twisted the role of a godly leader from providing for the people to providing for himself, something he had to repent of and bear the consequences of for the rest of his life.

The kings of Israel provide many negative examples of leadership. They were to be dependent upon God for personal nurture and guidance and their primary identity was supposed to be as a member of God's flock, rather than being shepherd of that flock. However,

The mistake that many of the kings of Israel and Judah made was to think of power as a privilege rather than as a responsibility, leading to abuse of the flock, and
They forgot whose people they were leading and treated their people as if they were their own and not God's.

Worthless leadership results when leaders do not fulfill God's expectations of them. When leaders provide self-interested leadership, the people are actually leader-less.
Laniak outlines several dynamic tensions of leadership, acknowledging that there is no one model, metaphor or method for godly leadership. As an example, one of his conclusions is that "Good shepherding is expressed by decisions and behaviors that benefit the 'flock,' often at great personal cost. It calls for the benevolent use of authority. Some situations require militant protection and discipline, others beckon for gentle nurture. The shepherd ruler of Psalm 2 rules with an iron rod. The shepherd ruler of Isaiah 40 tenderly carries the nursing ewes. The shepherd image is especially useful for holding in tension these essential features of leadership. Authority without compassion leads to harsh authoritarianism. Compassion without authority leads to social chaos. Shepherds must be able to express their leadership in a variety of ways. The apostle Paul lets the Corinthians choose what posture he will take when he comes: 'What do you desire? Shall I come to you with a rod, or with love and a spirit of gentleness?' (1 Cor 4:21)… To be a shepherd is both to be responsible for the flock and responsible to the Owner."
Part 1 of the book is background material, explaining metaphors, the work of shepherds in the ancient world, and how the shepherd metaphor was used by ancient rulers. Although I love this level of detail, many readers might want to skip over this section and get to the biblical material that starts in Part 2.
There is an excellent coffee-table quality book that accompanies this book. It is so beautiful that my wife insists on having it on prominent display in our living room. If I take it away to use it, I hear her asking "Where is Tim's book?" While Shepherds Watch Their Flocks: Rediscovering Biblical Leadership
has forty daily devotionals and some exquisite photos taken from Tim's life among Middle Eastern shepherds today.
As an aside, Tim Laniak is Dean of the Charlotte campus of Gordon-Conwell Theological Seminary and was my ever-helpful faculty advisor for my dissertation. He wrote another book, Shame and Honor in the Book of Esther
that will bring Esther alive like never before. I highly recommend it.
All of Tim's books may be purchased at his website, which also has discussion forums, downloads and other resources.
So now, what is your favourite Christian leadership book? I know there are lots of good ones you could share!