Here are some perspectives that will help people prepare for a review of their ministry's strategic statements.
Core Ideology
Every organization has a core ideology — its vision (or end statement), mission, and values — that is the underpinning for everything it is and does. This ideology is the driving force that inspires and propels the organization forward. Vision explains why the organization exists (what it wants to accomplish), mission is its overarching strategy for accomplishing the vision, and values are the rules it lives by.
Three other items should be considered part of the strategic statement package:  the Tagline, the Value Proposition and the Key Success Indicators. The reason I include the Key Success Indicators in the strategic statements package is that if you define them before you get to lower level strategies and programs, it forces them to relate only to vision the ministry wants to make a reality. These high-level indicators keep the ministry's focus on its ultimate goal. Programs should have their own indicators, but if they are your only success indicators, you run the risk of the programs becoming their own ends. In other words, the programs might become separated from the vision they are supposed to help fulfill and then you are only measuring program success, not the progressive fulfillment of the vision.
I recall a case study I did as part of Harvard Business School's Strategic Perspectives in Nonprofit Management course. A group of very intelligent and well-moneyed people created a charity to end teenage pregnancy in America and they had a huge array of programs covering the issue from every angle (they thought). They won awards for the quality of their programs. They put a lot of teenagers through their programs. They thought they were making a positive difference and considered their charity very successful. But after several years, the rate of teenage pregnancy was still climbing. For all their programs, they didn't have the right solution to the problem. Their focus had been on program performance rather than mission success. They assumed their programs would solve the problem but they did not have a theory of change that tested their logic and they focused on program outputs rather than mission outcomes.
A Christian Perspective
It is important to recognize the spiritual aspect of developing strategic statements. The ultimate source of a Christian ministry's core ideology is the revelation of God through Scripture and the guidance of the Holy Spirit.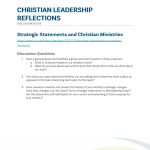 Scripture lays out the ideal future that God is leading us towards, the values he wants us to have, and the character traits that should guide us in all our work and relationships. This is why it is so important to know the Bible and why it is helpful to have someone on staff with some formal theological education.
Some aspects of God's ideal future for life in his kingdom may have more relevance to a ministry's vision than others, just as some values and traits may be more central to a ministry's corporate values than others. For example, God's love for all humanity or his concern for the poor could each have greater significance to ministries devoted to evangelism or poverty reduction than to ministries devoted to discipleship or education. Perhaps a ministry has had an isolationist posture towards other ministries and it recognizes that love for the body of Christ should be one of its values and they should be in relationship with other parts of the body.
Throughout the strategy development process, keep asking, "What in Scripture relates to this? What do we know about God and his work that should inform how we think about this?"
You must also pay close attention to the Spirit because he is the one who:
calls us to mission,
gives us a vision for what we can accomplish, and
guides us as we make decisions, making us faithful agents of God.
Be willing to be led by the Spirit. We must not develop our plans and then expect God to bless them. He might. But far better to start our planning with the foundation of Scripture and the Spirit's guidance and then ask for God's blessing. I learned years ago that my plans were no match for God's. All strategy development begins with reviewing the strategic statements to ensure they still reflect God's purpose for your ministry (or defining the strategic statements if they don't already exist).
Strategic Consultations in the 4th Dimension
The 4th dimension? I know that sounds strange, but it's just a memorable way to say there is value to tapping into the the previous generations of your ministry's leaders who were led by the Spirit as they in turn led the ministry. Reviewing strategic statements is a spiritual discernment exercise to discover what God wants your ministry to do. Just as you must discern God's direction today, previous leaders had to discern God's direction too. So, I suggest we consult with the directors and staff whom God has called to serve in our ministry, not just in the present, but in the past as well. The goal is to understand their decisions so you understand the full import of any changes you want to make. Remember, God spoke to them too, so their voices must also be heard.
I love this quote from G.K. Chesterton about consulting in the 4th dimension. He writes about a democracy that crosses time and death:
Tradition may be defined as an extension of the [voting] franchise. Tradition means giving votes to the most obscure of all classes, our ancestors. It is the democracy of the dead. Tradition refuses to submit to the small and arrogant oligarchy of those who merely happen to be walking about. All democrats object to men being disqualified by the accident of birth; tradition objects to their being disqualified by the accident of death. Democracy tells us not to neglect a good man's opinion, even if he is our groom; tradition asks us not to neglect a good man's opinion, even if he is our father. I, at any rate, cannot separate the two ideas of democracy and tradition; it seems evident to me that they are the same idea. We will have the dead at our councils.
But while we respect how God led the ministry in the past, the present board and staff should be open to God's fresh guidance today. We are not bound by the decisions of previous ministry leaders. We just want to be clear on the rationale for any changes we want to make. Are there new aspects to the mission that didn't exist before? Has there been fresh guidance by the Spirit? Then by all means, make the necessary changes.
The historical review of the strategic statements may reveal an overarching trajectory in the changes made to the strategic statements. If there is a trajectory, look carefully at what changed between the versions and look for underlying trends. Perhaps there is movement from crisis intervention (shelters, food banks, etc.) to advocacy for systemic change to prevent poverty in the first place. Maybe a congregation is expanding its view of what church is all about. Most ministries will show some development over the years. Try extending the trajectory forward to see where the trajectory takes us today. I show how this review is done in my post Developing Values, Mission, & Vision for Christian Ministries
Secondary Strategic Statements
Before diving deep into how to develop and review your primary strategic statements in the next post, I'd like to briefly introduce the secondary elements of your strategic statements.
The Tagline
The tagline is a short phrase (perhaps three to six words) that clearly positions a ministry for its audience. It is what the ministry wants to be known for. The tagline should evoke the first thought or feeling the ministry wants people to have when they hear the ministry's name. The tagline might be considered the big idea behind the ministry. A great way to develop a tagline is to create a brand story first and then base the tagline on the key point of the story. CCCC took this approach with our current tagline. After creating the story, the tagline became obvious as we read the story through. You can watch our brand story called "How We Fit Into Your Story" here. The resulting tagline is: Supporting Ministries in a Complex World.
The Value Proposition
The value proposition:
The value proposition for a local church might answer the question, "With so many churches in your town, why should there be another one?" For an independent agency, it could answer the question, "Why not merge with another ministry and save the duplicated overhead costs?" Perhaps the ministry's methodology is different, or it has a denominational distinctive. Perhaps it is the mix of what the ministry does that is valuable.
People writing about strategy and marketing use the term 'unique value proposition,' but I'm not keen on using unique in a ministry environment where every church has the same mission (even though they express their mission differently) and every other kind of ministry is working on some part of that same mission. I do, however, think you should be very clear about your ministry's contribution to the church's mission.
The value proposition needs to be defined before the programs are designed because it should have a key influence in designing your strategic initiatives and programs. I have another post that will help you define your ministry's value proposition.
The CCCC's value proposition is: Credible, Theological, Practical, Affordable.
Key Success Indicators
The key success indicators:
provide evidence that a ministry is progressively fulfilling its vision,
build a compelling case for support for the fundraising program, and
ensure board and staff stay focused on the ministry's purpose as the priority, and not individual programs. (It's easy to get so wrapped up in programs that the purpose they serve gets obscured and the program becomes the main thing.)
Key success indicators need to be defined early in the strategic review because they will be used later to assess the effectiveness of your current strategies and programs. In this regard, be especially careful that success indicators are set based on the strategic statements alone, because only the strategic statements define organizational success.
You must fight the tendency to define success in terms of your programs. Whether or not a program is successful can only be determined in light of what constitutes organizational success. A program could be highly successful on its own and yet not contribute to an organization's mission success. Program evaluations use key success indicators appropriate to the program being evaluated but the organization must be evaluated as a whole with its own success indicators.
The CCCC's has taken the key words of its End Statement (CCCC members will be exemplary, healthy, and effective Christian ministries) and developed key indicators of what a ministry looks like when it is exemplary, healthy, effective, and Christian.
In part two of this post I will give you specific practices and questions to help you discern your primary strategic statements.