If your ministry is centred on homelessness, international development, evangelism or any other part of the Christian mission, how do you keep from being overwhelmed by the scope of the problems, suffering and setbacks that you face every day? Christians have an incredible mission — to participate in God's mission to restore the world to the perfection in which it was created. That mission is so big that for two millennia (it would be four if you were of the Jewish faith), generations have lived and died and not seen it accomplished.
What keeps you from becoming cynical and giving up? When Jesus acknowledged, "The poor you will always have with you" (Mat 26:11), how do you keep your inner city mission team motivated? Knowing that the Lord told Jeremiah, "You shall speak all these words to them, but they will not listen to you" (Jer 7:27), how do you continue in evangelism ministry given that we may be speaking to a similarly hard-hearted generation? What is the secret to perseverance when working on a mission that seems unlikely to be achieved in our lifetimes? When you have given it your all, and realize you are still only halfway up the mountain, how do you get the wherewithal to keep climbing?
Keep a Healthy Perspective
My mom was an operating room nurse at the Hospital For Sick Children in Toronto back in the 1940s and she worked for a world-famous surgeon who operated on the most severely deformed babies. My mother spent every working day in the operating room confronted by the evidence of what can go wrong in the womb: babies born with cleft palates, heart defects, missing limbs, and all kinds of other severe problems.
She said to the surgeon one day that when she married, she didn't want to have children because of all the things that can go wrong. This wise man said, "Shirley, you forget that your world is filled with the 0.001% of all live births that are problems. Remember that there are many more babies who are up in the nursery with no problems at all. Don't be afraid to have children!!" And then he assigned her to the nursery ward for two weeks, and the rest of her life, she had a sunny disposition. (And of course, she had me! Yea! Thank you, Dr. I-don't-remember-your-name!)
My mom had a huge passion for improving babies' lives, but when she was immersed in it, she lost her perspective. She needed to be reminded that life is bigger than the medical mission she was committed to. In the same way, we must remember that if we focus only on what remains to be achieved, we will miss out on what already is—the positive, uplifting, and refreshing aspects of this beautiful, lovely world that God made for us—and the progress we have already made and the people we've helped. We need to soak in the nurturing and encouraging relationships we have with the people whom God has placed around us. Christ died so that you could live the abundant life. Smell the roses! Watch the sunsets! Listen to the rainfall! Take a walk with a friend! Hold someone's hand! Remember the lives already changed by your ministry.
Enjoy the Journey
From 1950 to 1977, Dr. Andrew Lawson was senior minister of the church I grew up in. In 1958, Harold Richards wrote a book about preaching and used Dr. Lawson as an example. In Feed My Sheep, he wrote: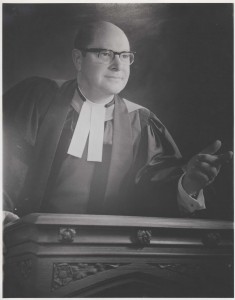 "One of the most successful preachers in North America today – one who holds big crowds, including college and university students, with a full church almost every week – Dr. C. Andrew Lawson advertises such sermon titles as The Kingdom of God, Foundations in Christ, Does God Have a Plan? The Trinity.
"There are no catches, or even catchy phrases, in these subjects. What is the result? Hundreds of people attend. He says: "We try to take the biggest things graspable, recognizing that we can gain a hold only of a tiny corner of them. We try to discuss them in simple terms, as the Gospels do. The hearers seem to prefer this to the exhaustion of some minor point which does not affect the deeper aspects of their religious life and faith. We assume that if we can't reach the mountaintop, the view still may be inspiring from halfway up the side."
How did Dr. Lawson fill his church? Not by dumbing down his topics. Not by focusing on small points. He kept the inspirational in view, grabbed hold of what he could, and basically told his congregation (in my words, not his) that, "This is a piece of what we are aiming for. We don't know about the whole thing, but this much we do know. We can't explain everything about God, but this much we can say." He recognized the truism that while the destination provides direction, life exists in the journey itself.
As you climb up the mountain, stop every once in a while and enjoy the view. Celebrate what you have achieved. Don't shy away from the big ideas — the lofty dreams and goals. They are motivational. But to stay motivated, grab onto what you can, take it a step at a time, and celebrate whenever you can.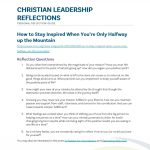 Practical Ways to Stay Inspired
Here are some suggestions for how to keep a healthy perspective and a joyful heart as you labour in your ministry:
Yes, Jesus said we would always have the poor among us. Due to human failings, our societies will always be structured to favour those who have power and therefore the weak and the powerless will always be marginalized and suffer poverty and other misfortunes. Jesus did not mean that there should be poor or that they are part of God's plan. He simply acknowledged the reality of the human condition. But Christ calls his church to be a transforming influence in society, working our way through it like yeast through dough to make it better. Jesus laid out the scope of the problem, and while we know it won't be fixed completely until he comes again, our goal is to see how far we can take it towards God's ideal before then.
Yes, the Lord called Jeremiah to be a prophet and then said no one would listen to him. Our faithfulness to our call matters more to God than the results of our service to him. This is a worst-case scenario – being told by God there will be no fruit from a ministry he has called you to. But unless God has told you there'd be no fruit, don't take Jeremiah 7:27 as your excuse for lack of results. The record of Jeremiah's ministry is a lesson in faithfulness and perseverance even when God said there would be no fruit. We find satisfaction and fulfillment in being faithful to God's call.
Take the long perspective. The church is still around 2,000 years after Christ. People have proclaimed that God is dead and they have tried to wipe out Christianity numerous times. The tenth century was the low point in Christian history, with just a rump of Christians left in western Europe. Christians in the 900s had every right to be gloomy about the future of their mission and the existence of the church, but God isn't subject to the vicissitudes of human history.
I am so tired of the starfish story. I feel manipulated every time a speaker uses it, but I have to reluctantly admit that it does make a good point. Yes, we'll always have the poor, but that doesn't mean that I shouldn't try to make a difference for the person right here in front of me. I can't solve the world's problems, but I can solve a problem for one person. And some of us will push through and solve some pretty big problems. William Wilberforce is a great inspiration for those of us trying to change systemic evils.
Go and meet with graduates of your program who now have jobs, families, or who have overcome addictions. Visit with beneficiaries who now have justice, who have found Christ and are living out their faith.
Develop other interests. Get a hobby. Grow a garden. Buy a telescope and look at the galaxies. Make a stained glass window for yourself.
Take a break. Go on vacation. Volunteer somewhere else. Attend a concert.
Feed yourself. Read a good book: a biography or a history of something big that was accomplished.
Pray, meditate and listen to the Spirit, who will minister to you exactly as you need.
Finally, remember that nothing you do is ever lost. Paul's insight for the Philippians is an insight for us. The good work we do today will be completed one day. Read this passage as a direct word of encouragement from Paul to you:
I thank my God every time I remember you. In all my prayers for all of you, I always pray with joy because of your partnership in the gospel from the first day until now, being confident of this, that he who began a good work in you will carry it on to completion until the day of Christ Jesus.

Philippians 1:3-6
More from Christian Leadership Reflections
Latest
Categories
Tags
Series