Are you so consumed by your ministry that you have become a single focus Christian?

Is your ministry commitment hurting your personal well-being?
I'm writing this for Christians who work for specialized Christian ministries (that is, they don't work for a local church). The church's mission has been given to each and every Christian, but outside of the local church, Christian ministries select a particular part of the whole mission to take on as their own mission. Their employees are usually passionate about the ministry's particular cause. That's why they work there.
But a possible downside to specialization is that employees, who are devoting their careers to a specific cause, can fall into the trap of bemoaning that not everyone shares their passion for their cause. They may even become angry and bitter that others don't "get it."
I don't see this as a widespread problem, but it is one that I've heard people talk about from time to time. The following is some common sense advice for how to stay balanced and healthy while committed to a cause.
Indicators of imbalance
First, are you at risk of losing balance? Indicators that you might be include:
You begin losing relationship with friends and family as your cause increasingly takes hold of every aspect of your life and you have less and less in common with them.
You find yourself in a subculture which is dedicated to the cause and is made up of people who reinforce each other's commitment to the cause while supporting an "us versus them" attitude.
Your life has become so narrow that you no longer have any other interests and you no longer even really enjoy life apart from the cause. Everything else just seems so unimportant compared to the cause!
You become judgmental of people who don't share your passion for your cause.
Finally, as a critical spirit develops, you find yourself changing churches, trying to find one that 'measures up', or even not going at all because your ministry work is your "church".
So many choices!
In your zeal for your cause, I'm sure you promote it to people you meet. Promotion is great because it is how people hear about what you do and it may spark their interest in taking on your cause. My daughter is serving as a missionary in Bangkok because someone shared her passion for ministry in Thailand and my daughter caught it.
But it is helpful to realize what is going on inside other people's minds if you try too aggressively to convince them to adopt your cause, because you could in fact be driving them away.
They're likely thinking that there are so many causes a Christian can commit to. The Bible says to:
Visit orphans and widows (James 1:27)
Seek social justice (Micah 6:8)
Evangelize (Mat 28:19)
Disciple (Mat 28:20)
Care for God's creation (Gen 1:28)
The list goes on and on. "What should I do?" they ask themselves. And if they can't do it themselves, should they support someone else who can? Their inner dialogue is something like:
With so many things that I could do or support, if I devote myself to one cause, should I feel guilty about the other causes I'm not devoted to?
With so many choices, we could easily find ourselves paralyzed into doing nothing. But God has a better way!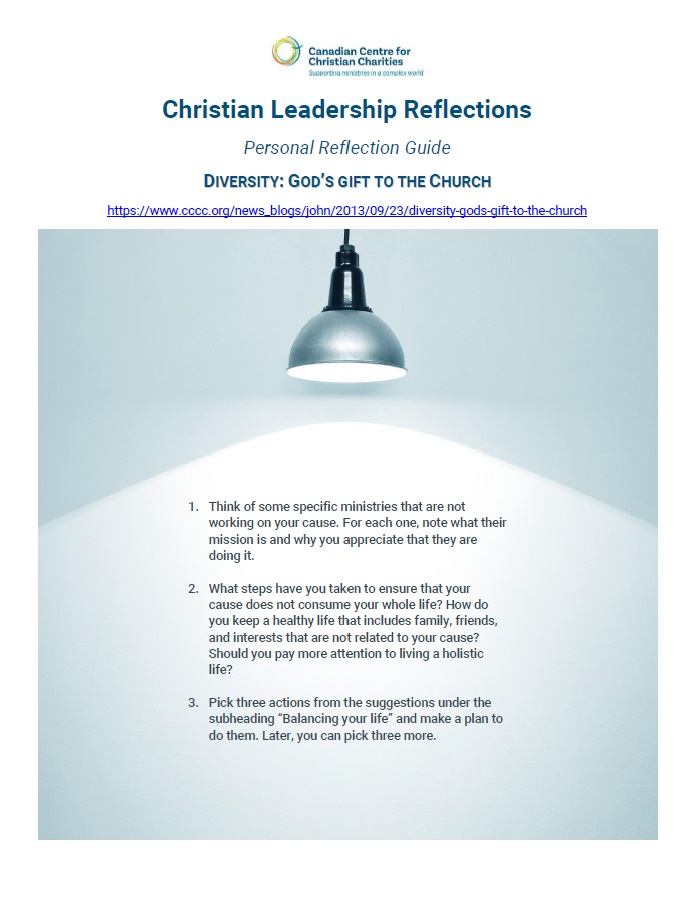 Diversity in the church
I love the church! I love that we are all one body and yet we have so many different expressions. There is a wonderful diversity in the church because each and every human being is unique. It thrills me to read in Christian Week and Faith Today about the many ways Christians in Canada are pursuing their calls. We are a creative people! With all this creativity, how to decide what to do?
First, we should recognize that we are all called to share the good news of Jesus Christ and to share God's compassionate love. So we all do that as opportunities arise. I can't say "I'm not called to be evangelist, so I won't say anything to my co-worker right beside me." No. I may not have the ministry of an evangelist, but I do have the responsibility to share Christ. So when opportunity presents itself, we do our part for the full mission of the church. This is passive ministry — recognizing opportunity that comes our way and acting upon it.
But when it comes to proactive ministry — deciding where to work, volunteer, or give money — we do have to make choices because we are finite human beings with limited means.
Fortunately, God has given each of us inclinations, passions, interests, and gifts that, together with our circumstances, cause us to gravitate towards one part of the mission or another.
He specifically calls some to a particular task, and others are free to choose based on who God made them to be. Some do this and others do that, but the beauty of diversity among Christians is that together we get the job done.
Because of diversity in the church, I can do what God called me to do, fund what he gave me a concern for, and trust that the gaps that I leave will be filled by someone else whom God is using differently.
Balancing your life
So if you see some of the above indicators in your own life, there are some easy things you can do keep yourself healthy and balanced.
Start by having some mercy and grace for people who have a different call from yours and whom God is using differently. Remember that you don't have their passion for their part of the mission.
Find out what others are doing. Go visit ministries that have missions completely different from your own. Awaken yourself to the great work being done by other parts of the church.
Broaden your horizons. Slow down and enjoy God's beautiful world.

Watch a sunset.
Smell the flowers.
Feel the breeze.
Enjoy the arts; go to the symphony or visit an art museum.
Read a book that is not related to your mission work.

Visit a friend and talk about their passion.
Get a hobby.
Take a vacation.
Go on a spiritual retreat and let the Spirit refresh you.
Let others minister to you.
I appreciate each and every Christian who is following Christ and obeying him by responding and doing what he wants them to do. We are accomplishing something great together!
But now God has placed the members, each one of them, in the body, just as He desired.
1 Cor 12:18
More from John
Latest
Categories
Tags
Series