I've just finished reading a disturbing book, The Vanishing Evangelical,
by Calvin Miller. His thesis is that the success of the evangelical church has become its downfall, and the prognosis does not look good. He has some pretty persuasive American statistics to support his argument, so it is hard to dismiss his concerns. I don't know how fully his research applies to Canada, but the issues are recognizable enough that we should at least take note. And his solution would be a great strategy for any church, anywhere, anytime. So we should all consider it.
A Warning
In a nutshell, Miller (a 30 year Southern Baptist pastor and a theology professor) claims that the Western church has adapted so much to culture that it has been sapped of its vitality and influence. We've lost the mystery and the power of our faith. It's hard, he writes, to distinguish between church and culture.
Some of the specific underlying causes of the problem are:
Our desire to be big
Our tendency to have a program for everything
Our willingness to trade intimacy for anonymity
Miller doesn't hold out much hope for denominations and local churches as they currently are. In this, I think he is overly pessimistic.
A Solution
However, in spite of his pessimism, he does call for a renewed vital faith at the personal level, which he believes will ultimately hit the 'reset' button on the church and birth something new, replacing existing churches.
My one disagreement with Miller is that I don't believe God would write off existing churches. If pastors and congregations are off-mission, causing all the problems that Miller documents, the Holy Spirit can change anyone who is willing to be changed. He can birth new vision, new priorities, new understanding, new commitment, new passion, that will revitalize our churches.
Miller's call for a renewed personal, vital faith is what I found really exciting and motivating! A vital faith is a living faith. And when people of no faith see people with a living faith that is working powerfully in their lives, they will want to investigate it because it is very attractive. People with vibrant faith are the best evangelists you could wish for.
There are two building blocks for a vital faith that will help Christians maintain the distinctive difference between church and culture, and that will give them the ability to discern God's direction in their lives. They are:
Theological vitality, and
Spiritual vitality
Christians who are mature in these two areas will stand out in sharp relief from our culture and they will be the core of healthy, flourishing churches.
Part of the reason I found vitality exciting is because my own denomination (PAOC) rolled out a 2020 Initiative a couple of years ago, and it is based on three vitalities: Theological, Spiritual, and Missional. It's always nice to see confirmation of something birthed through discernment. Some of the examples I give below come from the reflection given to these two vitalities by the PAOC.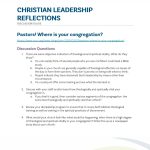 Theological Vitality
A good question to ask is "Where is my congregation theologically?"
Theology is the bedrock we stand on.You want to be sure your congregation is growing in their knowledge of Christian beliefs. This comes across as rather trite, but it is true nevertheless and it warrants our focused attention. Helping people grow in theological understanding is not just another worthy goal. It is central to equipping the saints for the work of service.
When I pastored a small church, I realized that the theological depth of the congregation was not actually that deep. So preaching on theological topics became one of the core themes of my time there with the content very deliberately planned a year at a time to give them a full-orbed understanding of God.
But there's much more to theological vitality than just knowledge. People who have theological vitality:
know how to engage Scripture in a way that informs their daily life. The don't just give intellectual assent to the Bible, they live by it. They read the Bible as a historical document detailing God's self-revelation to us, but they read it as more than that. They also read it as a living document through which the Holy Spirit speaks to us now.
understand the big picture of who God is and how we fit into his plans. They know that their purpose as a Christian demands an outward focus.
know God and his ways well enough that they do not fall for whatever some author or speaker says. They can test it.
are well-rounded in their life, majoring on the majors of our faith. They don't obsess over minor topics of interest.
are able to pass on the faith to others so that they too are theologically vital.
Vanishing evangelicals are like chameleons because their lives look pretty much like anybody else's life and they just blend in with the crowd. When people understand who God is, the claim he has on their lives, and how he wants to work through them, "Sunday Christians" become "Sunday-to-Sunday Christians." No one who knows them would ever be surprised to discover they are a Christian because they see evidence of their faith at work every day in them. They live their faith, they don't just talk about it. Their attitudes, behaviours, goals, everything about them, line up with their faith. Our faith is meaningless if our lives don't model authentic Christlikeness.
Pastors have the great privilege and opportunity to design a church that intentionally develops every member into a theologically literate Christian. Sermons, Sunday School classes, and small groups can all study the major doctrines and key theological ideas of our faith along with how to apply them. There are lots of study materials and curricula with titles like Foundations of the Faith that you could use. Make theological development a major focus of your church.
Spiritual Vitality
When I went to Tyndale Seminary in 2001, I thought I was already a mature Christian. After all, wasn't that why God was calling me to prepare for full-time ministry? How naive! Did I ever learn a thing or two in the fall of 2001 when I took a course called Foundations of Christian Spirituality!!
I thought until then that the way to discern God's direction was to think wisely, think biblically, and then make godly plans and pray for his blessing. That course taught me that there are spiritual practices that can help me discern God's specific direction to me, and to discern it at the start of the process (ie., I'm not asking God to bless my plans!). It changed my life. I've blogged about some of these practices in my series Hearing God Speak.
Since I took that course, these traditional spiritual practices have become much more mainstream among evangelicals. What the practices have done for me is make my experience of God direct and personal. I have evidence in my own life of his reality and it does not depend on any faith-buttressing support from government, culture, or even my church. Those experiences are the only reason I have the job I have today. They have given me guidance and led to new initiatives at CCCC. My spiritual experiences reinforce my trust in God and give me a solid basis for my assurance that God is very real and very interested in me as a person.
How rich are the spiritual experiences of people in your church? Ask yourself, "Where is my congregation in terms of their spiritual practices?"
People with spiritual vitality:
know intimacy with God through prayer and engagement with his Word.
are actively engaged in Spirit-empowered, Christ-honouring living.
demonstrate the adventure of living "naturally supernatural."
mentor others in a Spirit-filled life.
You can preach about how to discern God (and should), but ultimately you will need to give your congregation the experience of doing the spiritual practices. Have a series of classes in which you teach Lectio Divina, experience an extended time of silence, practice journaling, and so on.
Some resources that might help you prepare sermons or classes are:
These books are ones I personally own and can vouch for, but I notice that some of them are now quite expensive. I suggest for the expensive ones that you see who the authors are and see if they've written anything newer. You can also look up the topics and search for books that are more reasonably priced.
When I pastored that small church, I figured it was my job to bring the people to God in order to experience his presence, and especially to help them discern his leadership. One of the most interesting things we did was explore different forms of worship services from different Protestant traditions, drawing on their respective resources (hymns, prayers etc) to hold a complete service. It was wonderful to see people finding new ways of experiencing God.
The congregation was small enough and trusting enough that they allowed me to do that. At the time, I couldn't imagine doing this level of experimentation in a bigger church! But with the right preparation and teaching, who knows?
If you can help your congregation enrich their spirituality so they experience God afresh, you won't have to stir them up to do good works, God will do that for you! Your part as their pastor is to train them (just as you were probably trained in seminary) in the spiritual disciplines and practices that will help them 'hear' God.
Teach your congregation how to have a direct experience of God and then watch and be amazed.
Vital Christians
More than ever, Christians need to know the theology of their faith and have rich spiritual lives as they directly experience God. People living like that will never be mistaken for anyone but a Christ-follower. Unlike a chameleon, your congregation will stand out from its surroundings!
Key Thought: Congregations should exemplify the key distinctives of Christian spirituality and life.
"The book, The Vanishing Evangelical, has been provided courtesy of Graf-Martin Communications, Inc. Available now at your favourite bookseller."
More from Christian Leadership Reflections
Latest
Categories
Tags
Series