You have been called by God to your ministry leadership position and want to be as successful as possible. That's something I'm sure of, and that's why I invest a huge amount of time writing this blog. Its purpose is to help you and your team accomplish something significant for Christ.
My prayer is that this blog does more than entertain you for a few minutes. It should give you ideas that you grab hold of and use to do great things for God.
So I want to highlight some features of this blog to ensure you don't miss out on its potential to help you in ministry.
Blog Features
Text
The written post contains the fullest information on the topic of the post.
Usually the post will include an anecdote to help make the main point more memorable. If you are telling others about the post, you can substitute your own story if you wish.
Links are often provided to take you to other posts, books, or websites that can deepen your learning.
Examples or illustrations are used to demonstrate the significance of the point to your ministry. As much as possible (and if it is applicable), I draw on my own experience because I preach what I practice.
Virtually all posts include a 'how-to' section to help you get started on implementing the idea for yourself
Videos
Many posts include videos which are 3 – 4 minutes in length. They are designed as introductions to a group discussion.
They contain the key ideas of the post, and give a concise intro. You can either use a video to introduce the topic for group discussion if you haven't circulated the written post, or if you have circulated the post, the video is a quick reminder of its key points. Either way, the video helps the group's members begin a discussion from the same starting point.
Most videos are shot at a location that has some connection to the post's topic. The location should make the topic's main point a bit more memorable. A very few locations (usually a garden) are chosen simply to provide an interesting background.
Downloads
Many posts include a document you can download and use to develop an action plan. The content of these documents is NOT in the post itself.
There are two kinds of documents you can download.

Many posts relate to topics that a board or leadership team could discuss together. These posts have Discussion Guides.
Some posts are about topics that individuals would only apply to themselves. They may study the topic as a group, but the application is strictly personal. These posts have Reflection Guides. You might ask people to share some of their answers if they are willing, but the most important thing is that they answer the questions honestly for themselves. This means they may not want to disclose their answers to the group. In this case, you may just want to have a general discussion about the topic.

The questions are not exhaustive, but are meant as discussion starters. You can add additional questions or probe deeper on the responses.
Audio
All posts have an MP3 file so you can listen rather than read.
The audio posts contain the full text of the written post.
Newer posts are being recorded by a CCCC staff member, Gilbert Langerak, who has a far better speaking voice than I do. Mellifluous is the word that comes to mind when I listen to him!
The audio files are meant to save you time because you can listen to them while doing something else.
Pictures
Each post has a photo which is intended to convey either the emotion or an idea related to the post. They always have meaning.
Comments
Comments are allowed for all posts. My vision for the blog is that it be a place for community discussion between ministry leaders and workers. I don't pretend to be the final word on any of the topics. I am simply voicing my opinions based on research and reflection.
Please share stories of how you implement the post's ideas in your ministry. We can learn from each other, including me learning from you.
I invite you to engage with the topic by asking questions, suggesting alternate points-of-view, or adding additional ideas to expand the post. Again, I'm offering my perspective and there may be others, or mine may not be as comprehensive as yours.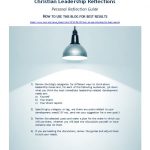 Content
To help you understand what topics you can find on this blog, here are the eight major categories of topics.
Community Leadership
This category captures the informal leadership that ministry leaders offer to the entire ministry community. Topics relate to the condition of the church in Canada and suggestions for being more effective as God's people.
Governance
Since senior leaders are deeply involved with their boards and have a high interest in having as good a board as possible, this topic covers how boards operate, how to be a good board member, and the relationship between the board and staff.
Leadership – Theology
Biblical-theological studies that relate to leadership and which do not fit elsewhere will be in this category.
Organizational Leadership
This category contains everything related to organizational health and anything that is solely the senior leader's responsibility.
Personal Leadership
Topics concerned with how leadership impacts an individual personally are covered in this category.
Spirituality of Leadership
Since we are Christian leaders, it is vital that we understand the spiritual resources which are available to us and how we can experience the richness of a vital relationship with God.
Strategy
Here you will find a Christian perspective on strategic thinking and planning.
Team Leadership
All aspects of providing leadership to people are in this category.
Other
Other categories which I occasionally write for include: Christian Fundraising, Leadership (general topics which don't fit elsewhere, No Category, Personal Reflections, Teamship, and Travel (mostly my around the world sabbatical, and sometimes courses that I attend).
Enjoy!
I love hearing from my readers, so please don't be shy about introducing yourself to me or sharing what you think about particular posts. Thank you for reading, and may God bless both you and your ministry!
More from John
Latest
Categories
Tags
Series