Appreciation in the Workplace
Gary Chapman is on a mission to help leaders become excellent at expressing appreciation. You've probably read, or at least heard of, his book The 5 Love Languages.
It helps you express love to your spouse the way he or she wants love expressed. In his follow-up book, The 5 Languages of Appreciation in the Workplace: Empowering Organizations by Encouraging People, Chapman re-interprets the five love languages so they can be used for expressing appreciation in the workplace. The idea is the same as that of the other book: show your appreciation for team members in the way they want to be appreciated.
Appreciation Languages
The five appreciation languages are:
Words of Affirmation
Acts of Service
Tangible Gifts
Quality Time
Physical Touch
The last language, Physical Touch, is limited in the workplace to handshakes, fist bumps, and the like, and doesn't receive much attention in the book. The other four languages, however, get lots of attention. Each language has a variety of dialects which further fine-tune how appreciation could be expressed in that language for any particular employee. For example, dialects for Words of Affirmation could include whether the appreciation is given in public or private, verbally or in writing.
Chapman finds that everyone has two primary appreciation languages. The other three may mean nothing at all or just very little. The point is that you have a certain way of wanting appreciation to be expressed to you, and your natural tendency is to appreciate others in the same way you'd like to be appreciated. That will work for some people, but for others you will completely miss the mark and even risk turning what you think is a good interaction into a bad interaction for that staff member. For example, you might express appreciation with words, but the way the employee feels appreciated is by receiving a gift with some monetary value, perhaps a gift card for a restaurant. The employee might discount the verbal appreciation because it is just "cheap words" that don't really mean anything.
If you'd like to be more intentional about expressing appreciation to your staff, you'll find the book full of insights on how to give appreciation well. Plus, each book has a coupon code which allows you to complete a quick online assessment to discover your own primary appreciation languages. You can then do what I did, which is purchase additional assessments to help your staff discover theirs.
Once the staff know their primary appreciation languages, they can share them with you and other staff and that's when the fun starts. Effective appreciation should start to fly in all directions: top-down, peer-to-peer, and maybe even bottom-up. My daughter taught at a school in Nepal which posted all the staff members' appreciation languages in the lunchroom, making it easy for everyone to appreciate each other in meaningful ways. Can you imagine a ministry with everyone appreciating everyone else like that? What an encouraging workplace that would be! I'm sure productivity and real-world impact would soar!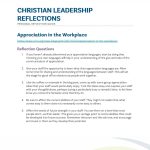 Appreciating Groups
Because there are different languages and dialects, appreciation can be customized for each team member so they get just the right appreciation for them. But you don't want to be that narrowly focused if you are expressing appreciation to a group. Ideally, you would find ways to incorporate two or more languages in order to appeal to a broader group of people and hit at least one of each person's top two preferred appreciation languages. That means using any three of Chapman's top four languages (remembering that he says Physical Touch never shows up as a primary appreciation language in the workplace).
For example, I do an irregular coffee run to pick up a drink for everyone. I have a list of staff members and their usual Tim Horton's drink order. I surprise them by personally delivering their favourite drink to their desk while thanking them for the great work they are doing (a Tangible Gift, an Act of Service, and a Word of Affirmation all wrapped up in one act of appreciation)! Efficient, isn't it?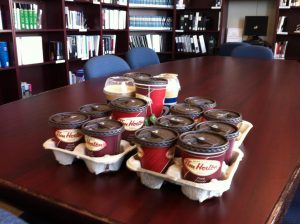 Another example of combining appreciation languages was when I took a staff member to lunch (a Tangible Gift and Quality Time), told him verbally what I appreciate about him and then gave him a card with the same sentiments handwritten in it (verbal and written Words of Affirmation).
Appreciation in the Bible
Three biblical verses stand out for me as I think about appreciating staff. None is about appreciation directly, but each covers an aspect of appreciation and together they provide insight into why appreciation is so beneficial to your ministry's success. Two verses are about encouragement and the third is about relationships.
Therefore encourage one another and build up one another, just as you also are doing (1 Thess 5:11).
This verse reminds me to look for things to appreciate in others and to use Words of Affirmation to encourage and build them up in two ways:
1) Affirm what already is: We can encourage and build people up by expressing appreciation for what we see in them, especially when what we see are things they don't appreciate or even see about themselves. It's human nature to undervalue what we are good at because to us it is so easy and natural that we believe there's nothing special about it. Instead, we value what we see in others that we find very difficult to do or be ourselves. If we fall into this trap, we will not reach our full potential because we'll be focused on developing areas of relative weakness, which probably won't have much room for improvement, while neglecting to capitalize on our strengths, which probably have lots of room for further growth. Expressing appreciation for the strengths people bring to their work can redirect people to a more fruitful use of their abilities and greater fulfillment of their potential.
2. Affirm what could be: Leaders should look not just for existing strengths, but also for the seeds of future strength. Be watchful for traits, interests, and budding strengths that could be combined and/or cultivated to expand the person's potential. For several years, I carried an acorn in my pocket to remind me to look at people with two sets of eyes. With one set, I see the acorn as it is today – an acorn. But with the second set, I see what the acorn will become – a mighty oak tree! When we look at people, we should try to see them not only as they currently are, but also as they could become. Affirm the potential you see and encourage them to develop it.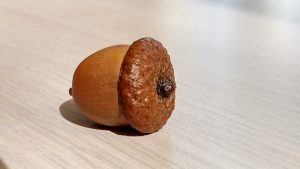 And let us consider how we may spur one another on toward love and good deeds (Heb 10:24). This verse invites us not just to inform people about their potential, but to actively incite them to develop more of it.
I always think of a race when I think of spurring someone on. I'm either running beside them on the track as a pacer, challenging them to push themselves to do their best, or I'm cheering from the side of the track, encouraging them to press on. We see Paul cheering the Corinthians as he spurs them on to give generously. He affirms the intention they had already made to give, and challenges them to give at least as well as the Macedonians gave.1. Affirmation coupled with challenge is definitely a way to spur someone on. Give a person a vision for what they could accomplish. Over the years, I have had a number of people spur me on, either about myself or about CCCC, and each time it forces me to ask, "Why not?"
To Timothy, my beloved son (2 Tim 1:2). This way of addressing Timothy is perhaps the most intimate look we get into Paul's inner life. Timothy was not his biological son, but he had become so close to Paul that Paul thought of him as the son he never had. The relationship is very warm and intimate, and speaks to Paul's recognition of Timothy's potential and his dedication to seeing that potential realized.
Paul's deep love and appreciation for Timothy and his effectiveness at developing Timothy were based on the significant time they spent together over the years (Quality Time). As a result of his investment in Timothy, the younger man matured into a great Christian leader. This is a reminder of how important Quality Time is for developing another person, learning to appreciate who they are, and encouraging them in their development. Paul's investment of time in Timothy should inspire us to do the same. Find one or more young people with high potential and invest in them.
Key Idea: Ministries will flourish as leaders appreciate their staff and build them up.
More from Christian Leadership Reflections
Latest
Categories
Tags
Series