"God wanted us to come here to help children, we are convinced of that," Laura Silsby, one of 10 Americans accused of trafficking Haitian children, said Monday through the bars of a jail cell.  "Our hearts were in the right place."
We've all read about the short-term mission team that went to Haiti in late January to rescue children and that instead wound up in jail suspected of child trafficking. This is a horror story for any mission team. Nine of the ten team members were subsequently released, but they are still facing charges. Laura Silsby, however, is still in jail as well as still facing charges, and all are in need of prayer support. But we also need to learn from this fiasco. These good-hearted people were apparently very naive, and the fact that they got as far as they did is, in my opinion, the result of a leadership failure that I'll explain in a moment. I don't know this situation firsthand, so I'm basing all of my comments on published news reports. Even if some of the details or assumptions later turn out not to be correct, there are lots of other examples that could be used and the point of this post remains valid.
There are conflicting reports about what their intentions were, but what is clear is that two churches did this project on their own [the report has been removed from their website] and with no apparent expertise. According to the NY Times article linked to above, "the group is not registered as an adoption agency in Idaho and does not appear to be registered as a federal nonprofit. The group also did not appear on a list of accredited international adoption agencies on the Web site of the State Department."
Without the help of either a Christian agency or a denominational mission department, either of which could have provided badly needed expertise in the complexities related to emergency relief, child welfare and adoption, the success or failure of this project depended upon the quality of leadership these two churches could provide. Unfortunately, the leadership apparently was not up to the task in this instance.
Leaders are responsible!
Leaders are responsible for organizational achievement of their respective missions from start to finish. They need to ensure quality control, risk management, applicable standards and regulations, and all other factors related to organizational success are taken into account when launching a new endeavour. Such planning is thoroughly biblical, as Jesus explicitly assumed that good planning would take place before acting on good intentions (Luke 14:28-32). It is irresponsible for leaders to send people out without doing their homework.
Good Planning Questions
Planning must include two aspects which were apparently missed by the churches:
an objective organizational assessment that assesses the ministry's expertise to do the project, and
a due diligence investigation to discover the project's risks and obtain full knowledge of everything that is required to complete the project successfully.
Based on the news stories, the organizational assessment would have shown that the churches had motivated people and lots of money, but no apparent expertise (other than the expertise of the team leader, which appears to have been accepted at face value). Due diligence would have uncovered the need to work with the Haitian government and to be properly accredited as an adoption agency.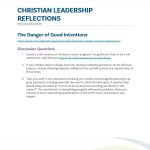 Having Resources is Dangerous
Having the people and the money to do a project is a potentially dangerous scenario because once you have the resources to act on your own, it is quite tempting to just go ahead and do it and not bother with a reality check. When you can do it yourself, it is all the more important to validate your assumptions and plans.
Validating Plans
Validation requires at least some external input, because on your own you don't know what you don't know. You need to protect yourself from overestimating your competence and capabilities (otherwise known as hubris). Outsiders see things more objectively and their experience will be different from yours, so they add different perspectives to yours and identify issues that you may have overlooked. "Plans fail for lack of counsel, but with many advisors they succeed" (Prov 15:22).
Validation for new and existing programs can include:
External secondary research (books/journals, seminars/conferences)
Primary research (program reviews, surveys, pilot projects)
Consultation with experts/consultants or with other ministries in your field asking for their critique and suggestions
Mentally walking through the entire project and fact-checking each part of the plan
Doing a joint project with an experienced ministry as a learning experience
Reviewing similar programs run by others
Ministries can also take advantage of many forums that facilitate more intentional inter-ministry cooperation and sharing of specialized information. Here is just a sampling of the many umbrella organizations that bring ministries together:
Conclusion
I wonder how many ministries have wasted precious resources because they rushed into a program or mission trip without understanding the complexities of an issue? How many have acted in a way that left experts who have laboured for years scratching their heads over their doings? How many have made the problem worse because of their misguided efforts? How much more could be done well simply by asking other ministries or experts for advice or help, or by getting behind an initiative that someone else already has in place?
Good intentions are great, but on their own they can be dangerous. Good intentions do not always result in good deeds. Leaders must take good intentions and add planning and organizational support to transform good intentions into good deeds with good results.