Ancestral roots in Paisley, Scotland
I'm in the part of my sabbatical now where the board suggested taking some personal time, so this is a lengthy post about a visit to the home of my ancestors. In late April 1821 John Neilson and Arthur Lang, along with their spouses and four children each, joined with many others from their town of Paisley, Scotland and travelled a few miles to the port of Greenock to board the ship Earl of Buckinghamshire and begin their voyage to Canada.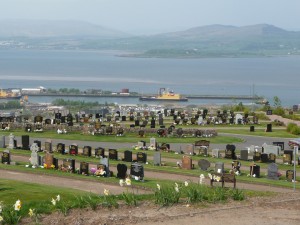 Exactly 190 years later, John and Arthur's great-great-great-grandson, me, made the return trip. (Genealogists who've found this post should check the links at the bottom for a wealth of information on the Paisley Townhead Emmigration Society and a plan of the Earl of Buckinghamshire.)
Do you know who your ancestors are? Many people have a hard time going any further back than their grandparents. A great-uncle of mine started work on my mother's family tree back about 1910 or so. He passed the info on to my uncle, who gave it to me when I was fifteen years old. I remember feeling amazed that I had so much more family than ever I knew. I felt like I had roots, a history, a context, that were all previously unknown. I have added extensively to what we know about my forebears. I also started work on my dad's side, which no one had done. The best thing I did was to ask for memories before a generation was lost. I interviewed my grandmother, a great-aunt and others. I asked my dad to write his memoirs and my mom to fill out a "grandmother's book." I visited archives, libraries and museums to mine their treasures. If you haven't documented your family's stories and history, now is the time to start.
As an encouragement to get going on your family history, let me tell you how I have experienced my own family background in a new way last week that could never have happened without someone recording it.
Most of the branches of my mother's family come from Scotland, and all of those are from either Paisley or Glasgow. John Neilson and Arthur Lang were weavers in Paisley, the most important weaving centre in all Britain. (Think of the Paisley pattern and Paisley shawls.) But by 1815 or so, the cottage weaving industry that had thrived for hundreds of years was in serious decline. The new mechanized looms required a centralized workplace to take full advantage of their benefits, so factories replaced cottage workshops. Fewer and less skilled workers were needed. Cottage weavers saw their incomes drop by 80% in just two or three years. At the same time, the labour market was flooded with soldiers returning home from the Napoleonic wars, so Paisley's weavers not only lost their work, but found it virtually impossible to find any work.
The British government therefore encouraged emigration to the colonies and John and Arthur applied to the Paisley Townhead Emmigration Society to go to Canada. On September 28, 1820 their names were on the list submitted to the Earl of Bathurst for approval as being men of good repute suitable for settling overseas. This was a government program that was quite generous and no bad apples were to be sent.
The men and their families were taught how to farm, they hired the ships, wrote the rules they would live by in crowded conditions on the six week voyage, and each brought a different book to contribute to a community library.
I have a copy of Arthur's day-by-day account of the voyage and a letter that John wrote to his family back in Scotland a few years later telling what it was like to settle in a virgin forest. There were not even any footpaths to guide them as they trekked through the woods to what is now Almonte, Ontario, just outside of Ottawa.
The ship had some early excitement as it ran aground off of Ireland. The locals came to watch as the Earl of Buckinghamshire was battered against the rocks. Until an amount was paid to the Irish, no effort was made to free the ship! However, once paid, the ship was freed and off they went on their voyage, arriving in Quebec City mid-June.
My time in the Paisley area was devoted to seeing things related to my ancestors. My most exciting find was a tombstone. How's that for a highlight? Well, I was excited. Arthur's father was also named Arthur, and he died of a stroke in the fall of 1821, just after his son emigrated. He was from Bonhill, not too far from Paisley, but at some point moved to Paisley.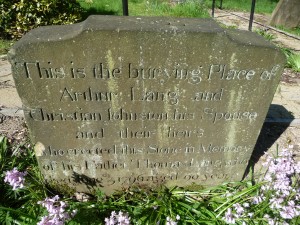 The grave is for Arthur and his wife, but it also has a memorial to this Arthur's father, Thomas Lang, who died June 3rd, 1796 at the ripe old age of 90! Since the average lifespan in those days was likely fifty or so, Thomas was extraordinarily long-lived. The stone is very well preserved and it only took about fifteen minutes to clean the moss and grass out of the last line of text.
The grave is in the churchyard of Castlehead Church. The church was built in the early 1780s and was called the West Relief Church. Its graveyard was originally intended for people whose lives were so sinful that they could not, with decency, be buried in consecrated ground. But within a few years, the area right around the church was developed into estate lots for the wealthiest citizens of Paisley. The subdivision was called Castlegate, the church was renamed Castlegate Church (Church of Scotland), and suddenly the graveyard was for acceptable people too. Robert Tannahill, the great Scottish poet, is buried only a few feet from the Langs.
All of the other Langs and Neilsons were associated with the Abbey church or one of its satellites. Yes, they had satellite churches back then. The population in the Abbey parish grew to be so large that three churches were started. The Abbey church provided the ministers. Interestingly, the three churches were not put in diverse geographical locations. All of them are on New Street, not far from the abbey church, that runs up and down a hill that is fairly steep at the top end. These three churches were all built in the late 1700s and are called High, Middle and Low Church, depending on their relative elevations! High and Middle Church are located just a few feet from each other. The walk is a minute or less between them. The walk to Lower Church is maybe five minutes. After 1790, my ancestors were members of the Middle and Low parishes, but neither of these churches still exist. Middle Church is now an apartment building and Low Church is now the Paisley Arts Centre, a live theatre.
I went to the museum, and saw an exhibit about the weaving industry. It had a map showing where all the weavers' cottages were located. Next up was a visit to an original weaver's cottage. There were still hundreds of these in the 1970s, but they were almost all purchased by developers, who tore them down and put up new buildings.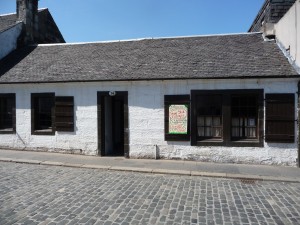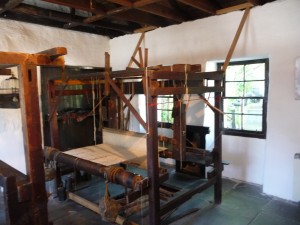 One man realized what was happening, and while there were still two or three left in 1981, he bought one that was in the oldest area and got some friends to help finance it. They shortly afterward bought another cottage on the next street that was probably inhabited by a foreman in a factory. They were able to connect the two backyards, started a charity, and sold the two properties to the charity for what they paid for them. The man who guided me seemed to tell the story as if he was reliving it, not reciting it, so I asked him if he was the one with the vision who made it happen, and he was. I thanked him for preserving Paisley's history.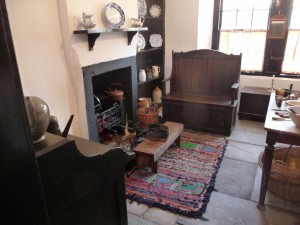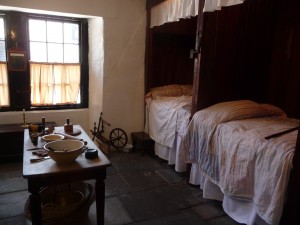 A weaver's cottage is usually only one floor and has two rooms side by side separated by a hallway that goes from front to back. One room is the living quarters; kitchen, dining, sitting and sleeping. There would be two double beds against one wall, two trundle beds underneath and then, I suppose, cradles and mats.
The other room housed the loom(s). The looms that were original to this cottage were found disassembled in the rafters. They are now back in their original condition and are used from time to time. One was for carpets and the other was for everything else, the finer material.
I learned that weavers were avid readers and their favourite topic was politics. They loved to sit together and solve all the political issues of the day. Common wisdom in London was to watch what was happening in Paisley, because if revolution was ever going to come for real, it would start there. The weavers were well-educated for their time and for their place in the world, and they were considered radicals.They also loved to garden, but not vegetables or herbs. They loved beauty, so they grew flowers and developed several new types.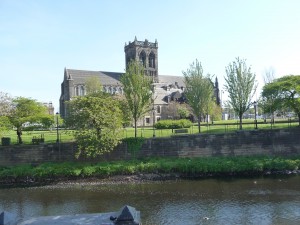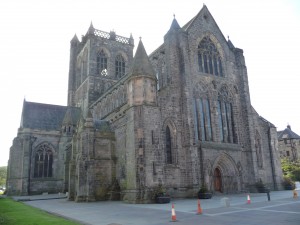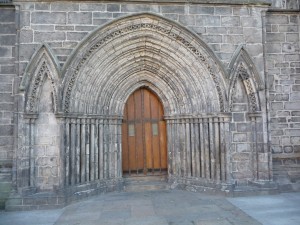 I checked out the Abbey church. Paisley only exists because an abbey was built there. Cluniac monks were invited to set up a Priory in 1163, and the abbey church was built by 1173. The town then grew up around the abbey. In the Reformation and wars between England and Scotland the abbey was ruined except for the nave. The monks were thrown out, it became a Church of Scotland parish, a new east wall was built so that the nave became the whole church, and so it remained until the late 1800s. It was Queen Victoria, after a visit, who inspired the town to rebuild the rest of the church as we know it today. It is still known as the Abbey church and the Abbey parish.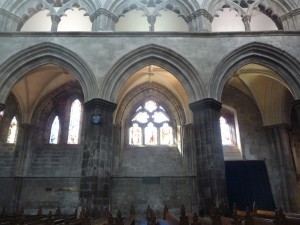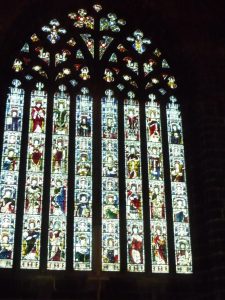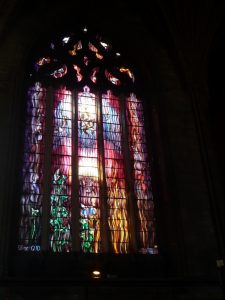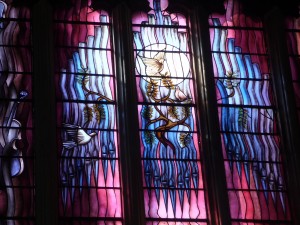 Building new transepts, choir and altar doubled the length of the church and added what I think is quite an ethereal effect to it. The nave was built in the 1300s, and so has a medieval look to it, seen in the stone work, columns and in the windows. The later addition was built between 1898 and 1928 and has a much finer look to it, with traceried windows, fine thin columns, massive windows and elaborate wood and stone carving. Sunlight floods the whole addition. The lighter colours and the effect of the sun beams make it seem as if there is a layer of gauze separating the nave from the chancel area. From the back of the nave, it feels like you are seeing a vision looking 500 years into the future.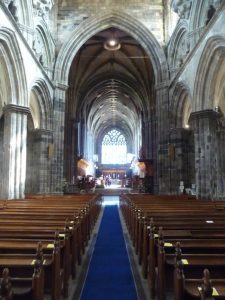 While at the Abbey, I chatted with a man who ended up giving me some good background information. I discovered when I attended there on Sunday that he is the church's verger. I did not know there is such a person, but I saw the same role at St. Paul's. The verger is a layman who is in charge of keeping order in the service. He leads the procession and recession, and guides the minister to and from the pulpit. He carries a rod, called a virge, and the point originally was to use the rod to keep animals and people from disrupting the service. They are responsible for maintenance of the building and it's assets, and overseeing the logistics of the services.
After the service I had a good chat with the minister, who has served here for 23 years. I really think there is something to be said for long terms of pastoral leadership. Changing ministers every four or five years keeps people focused on the short term (what can I do before I move on?) so that the long haul work of building a church for a generation or two is less likely to happen. Long service pastors build deep relationships within the church and the community.
The minister's son moved to Canada and is youth minister at the Presbyterian church in Huntsville, ON. That is only a few miles from my family's cottage. Strange how there can be such connections between people who have never met. The son first worked for a camp that is a CCCC member.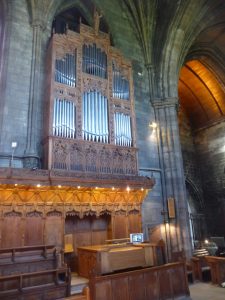 The organist was away, so a very young man played today, and he opened with Buxtehude's Prelude and Fugue in C, the second time I've heard it on this trip. After the service, when everyone was out of the sanctuary, he gave me a tonal tour of the organ. I was very surprised to discover it is a Cavaillé-Coll, as I didn't know any existed outside of France. It is one of three that were built in the U.K., and he thinks the only one still in use. The stops have been added to over the years, but the voix humaine is original, so I had to hear it! I wanted to hear the excerpt from Franck's Deuxieme Chorale, but didn't want to put him on the spot. But without my asking, that's what he played. I mean really, what else could he have played? That is just such a famous meditative showpiece for the stop. I had just played that very selection myself a few weeks before for one of my staff members, David Van Der Molen, who studied organ at college.
The organ is amazingly versatile because each division has a full principal chorus, often with two sets of foundations. The result is that it can sound English, Flemish, North German Baroque, French baroque and French Orchestral! One can't help but feel a little envy.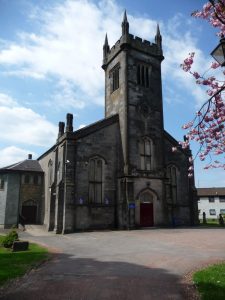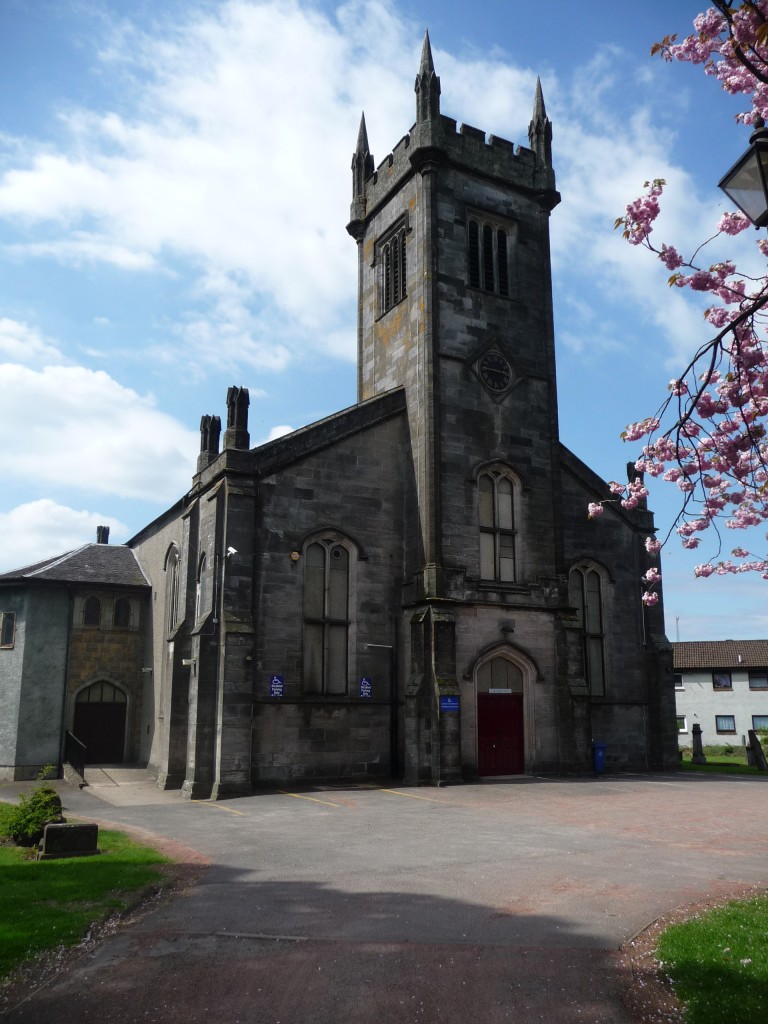 I went to see nearby Bonhill, where Arthur Lang's father (the one whose grave I found) lived before moving to Paisley. There wasn't anything to see there except a Church of Scotland church that I poked around a bit, but the building was closed.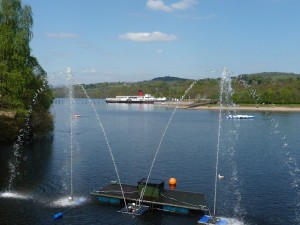 John Neilson's son John, and Arthur Lang's daughter Mary, ended up marrying each other in 1838. Their grandson Morden (my grandfather) married Bessie Gentle. The Gentle family was from London, but her mother's family, the MacDonalds, came from the Tollcross area of Glasgow. Charles MacDonald, a few generations earlier, came from Renfrew. So I drove to Renfrew and Tollcross, but like Bonhill, there really was nothing to see.
Finally, I drove to Greenock, looked at the docks from which the Earl of Buckinghamshire would have left, and then drove high up the hill to get a good overview of the area.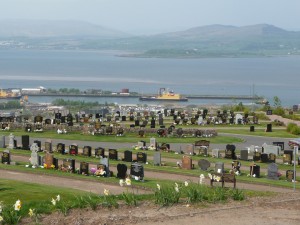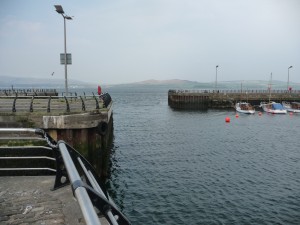 I wanted to see what my ancestors would have seen as their last view of their homeland, but there are no day cruises going in that direction (seaward), so I contented myself with a drive along the coast of the Firth of Clyde down to Largs.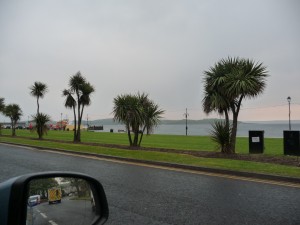 After taking pictures, I took the direct overland route back, which had a sharp turn that turned out to be at the top of a hill overlooking Paisley. They had a pullover there and it was quite a view.
Visiting family sites in Scotland gave me a much better appreciation for the situation they came from. Even though there were tremendous pressures that left them not much choice about going or staying, I admire the gumption of these two men and their wives, in their very early thirties, to get up and leave everything and everyone they had ever known, and launch out into a new life in a part of a colony in which they would be the pioneers and, quite literally, the trailblazers.
My life is in no way anywhere near as hard as theirs. But that is their gift to me, and in the reflective words of John Neilson in his letter back home, "I have no regrets."
Genealogical Information
I have transcribed information for all members of the Paisley Townhead Society (this was the final list of those who actually did emmigrate), everyone who was on board the Earl of Buckingham (also called Earl of Buckinghamshire), and everyone who settled in Ramsay Township as part of the 1821 Scottish immigration. Both my ancestors (John NEILSON and Arthur LANG) were in the Paisley Townhead Emmigration Society, came on the Earl of Buckingham and settled in Ramsay Township.
You can see the plan for the sleeping deck of the Earl of Buckingham.
More from Christian Leadership Reflections
Latest
Categories
Tags
Series