Loving Teamship: Loving Your Teammates
Loving Leadership discussed a leader's responsibility to love his or her team. What about the responsibility of team members to love as well? Using the word 'love' in a work context may make you uncomfortable because we usually use the word for romantic relationships or over-the-top emotions. But the Bible uses the word 'love' in many other contexts. Everyone is responsible for loving, honouring and respecting one another! After speaking to leaders in the previous post, here are a few words for team members.
The theological basis for this post has already been described in Loving Leadership. Being made in God's image is a fact (whether we acknowledge God or not), but whether or not we manifest the quality of relationships that we see between the three persons of the Trinity is a matter of choice. We choose to love, honour and respect others, or we choose not to. Staff members make choices daily about their attitudes, the feelings they will dwell on, and their behaviours, so they should bear in mind while making those choices that they have both the Christian duty and the Spirit-empowered ability to contribute to a godly workplace.
This and the next two posts will provide practical suggestions for what loving teamship looks like for three key relationships that all team members have: with each other (this post), with the team as a whole, and with the team's leader.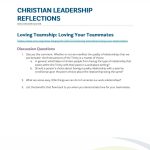 Relations with Fellow Team Members
Love your teammates as Jesus loves you: Jesus said in John 13:34, "A new command I give to you: Love one another. As I have loved you, so you must love one another." Reflect for an hour or more on how Jesus has loved you and then review your relationships with your teammates. You'll know what to do. And yes, I mean an hour or more. It'll take at least an hour to get beyond the obvious and go deep. You and Jesus have been through a lot together over a lifetime.
Relate to your teammates as human beings, not means to an end: Paul wrote in Romans 12:9-18, "Love must be sincere…Be devoted to one another in love. Honor one another above yourselves…bless and do not curse. Rejoice with those who rejoice; mourn with those who mourn. Live in harmony with one another. If it is possible, as far as it depends on you, live at peace with everyone." You might think, "I don't have to like these people, I just have to work with them." But that attitude depersonalizes them. It strips away the wholeness of the person God made and reduces them to a production tool that you use to get your work done. Your teammates are people, not means to an end, and God has placed them on the team to help you practice living in godly relationships. Here is your chance to show that you can work righteously!
You spend more time with your workmates than with most other people, so these are likely among the most important relationships you will have (from God's perspective) because it is in long term, close relationships that you have the opportunity to develop your character and demonstrate godliness. If you can't get along with the people you spend most of your waking hours with, how can you say you are living a Christian life? (And yes, I'm talking to myself too.)
Honour others by speaking well of them, inside and outside of the ministry. If you can't do that sincerely, then you have an issue with that person that needs to be dealt with. Think about how you bless others. It would be nice if they were truly happy to see you each day! Do they know you have their back? That you are concerned about their welfare and success? They should.
Be forgiving: Paul says in Ephesians 4:2 and 32, "Be completely humble and gentle; be patient, bearing with one another in love…Be kind and compassionate to one another, forgiving each other, just as in Christ God forgave you." Some people listen to sermons week after week always thinking how the sermon is really good for those who really need it. They themselves are perfect in their own estimation, and it is to them that Jesus said in Matthew 7:2-4, "Why do you look at the speck of sawdust in your brother's eye and pay no attention to the plank in your own eye?" Everyone needs to be more patient, more forbearing, more forgiving. Cut some slack! At home you can order your world exactly as you want it, but at work (and church) you must accommodate others.
Go beyond forgiveness and be a peacemaker! 2 Corinthians 13:11 includes the advice, "Strive for full restoration, encourage one another, be of one mind, live in peace. And the God of love and peace will be with you." Our behaviour with others is linked by Paul to God's presence in our lives. Do you want to experience more of God? Be more godly! John expressed the same idea in 1 John 4:12, "if we love one another, God lives in us and his love is made complete in us." The completion of God's love, its end effect, is when we receive God's love and then not just reflect it back to God but pass it along to others. A Christian work environment ought to be a peaceful place (full of energetic activity of course, but peaceful nonetheless). Are you contributing to peace or to division, to encouragement or to anxiety? God's will is for his kingdom to be a place of reconciliation. Paul says to seek full restoration with people, not just a ceasefire and an uneasy peace! If you never attempt sincere reconciliation with those you have difficulties with, you have never done your full Christian duty. Seeking reconciliation means, though, that you have to face up to, and own, your own shortcomings.
Be an encourager. Paul exhorted the church in Thessalonica (1 Thessalonians 5:11), "Encourage one another and build each other up." Hebrews 10:24 has a similar exhortation, "And let us consider how we may spur one another on toward love and good deeds."
Be positive.
Be the one to suggest a way to overcome an obstacle.
Be the one to tell a teammate something good you see in them, an ability they may have overlooked or underappreciated.
Be the one to say "thank you" and "you made my day."
Tell people what you think they would be really good at.
At every opportunity, give positive feedback on work they have done.
Let them know how valued they are by their teammates.
More from Christian Leadership Reflections
Latest
Categories
Tags
Series