Who are you?
How do you answer the question, "Who are you?"
When someone asks me that question, my answer will depend on the situation:
In a social situation where my wife is the one connected with the group, I'll identify myself as her husband.
In a church setting, I might identify myself as an elder or a volunteer.
In a work situation, I'll identify myself as the leader of CCCC.
Who am I?
But the more important question is the one I ask myself: Who am I? This question isn't context-sensitive. You are only giving the answer to yourself, and it only has one answer – who you really understand yourself to be. This is your self-identity and everything else in life hangs on the answer you give. Self-identity affects self-image and self-esteem, making it very important to psychological, emotional, and even physical health. It impacts your relationships and how well you get along in life. Your identity is the core concept of what makes you 'you.'
Ministry leaders must resist the tendency to build their personal identity based on their jobs. As a leader, your role is something outside of yourself that you fulfill. It shouldn't be your identity, because if it were:
you could lose your identity when circumstances, such as employment or health, change,
you could replace what should be Christ's pre-eminent position in your life with your job,
you could become possessive and protective of your job, creating leadership problems.
Psalm 100:3
Psalm 100:3 is one of the best Old Testament verses to prevent your leadership role from becoming your identity because it boldly declares your true identity:
Know that the Lord is God.
It is he who made us, and we are his;
we are his people, the sheep of his pasture.
Psalm 100:3 (NIV)
Know God
Verse 3 grabs our attention from the very first word. We are to know God. The verb know is in the imperative mood, which means it isn't just know in the sense of be aware or memorize this fact. The imperative means it is a command and that fact alone makes it very important.
When I read this verse, I get a sense of the urgency that David, its author, had. I can imagine him standing right in front of me, with his hands on my shoulders shaking them to emphasize his point while passionately telling me :
Get this man! Get it deep inside you! This isn't just a 'nice to know'. It's EVERYTHING! Be sure you really KNOW this so deeply in your heart that your entire LIFE revolves around this one fact. KNOW that the Lord we worship is the God who created the universe and all that is; that the Lord our God reigns over everything. KNOW that you are His creation and YOU belong to HIM! SOAK in what that means!! YOU are not your own. YOU belong to God!
You belong to God
That's the truth: God made you, and you belong to him. You are valuable for whose you are, not for what you do. For Christians, there is no more foundational an identity than that you belong to God. In Christ, we are God's children and Christ's servants. We see God's love for us based on our identity throughout Scripture. Two passages in particular stand out:
When the Prodigal Son returned to his father, he had lost everything and was a complete failure. But that didn't change the fact that he was his father's son. He was welcomed back for who he was.
In the same way, at Jesus' baptism the Father expressed his approval for his son, before Jesus had even done anything in ministry. He was pleased with his son not for what he did, but for who he is.
And in just the same way, God treasures you. You are valuable in spite of your success or lack of it. Reputation, position, and accomplishment aren't the measure of your value to God. His ownership of you is what gives you value.
There are a whole lot of benefits we enjoy because we belong to God which I've detailed in another post.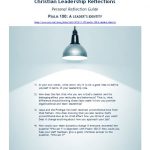 Your ministry job
A helpful way to think about your role in ministry is that you have a vocation: a calling, not a career. Careers are often managed with a goal of seeking advancement, while the goal of a calling is to faithfully serve Jesus Christ wherever his call leads you. If the way you follow Jesus happens to involve leadership, be a great leader. But don't get so identified with the role that it becomes an entitlement that you will fight to preserve. Be the best leader you can be, and hold lightly to the role. Enjoy it while you have it.
When your identity is based on the fact that you belong to God, rather than on your role as a senior leader, you will naturally want to lead in a way that is pleasing to God. Your leadership will be godly and attractive to your staff and board.
A change in paternity!
Here's a real life example of why your identity in Christ is so important. You may recall a story that broke in April 2016 when a DNA test revealed that the Archbishop of Canterbury's father was not who either he or his mother thought it was! It turns out she had a one night fling shortly before her marriage. Here is an excerpt from Archbishop Justin Welby's public statement on the effect this news had on his sense of identity;
In the last month I have discovered that my biological father is not Gavin Welby but, in fact, the late Sir Anthony Montague Browne. This comes as a complete surprise….I know that I find who I am in Jesus Christ, not in genetics, and my identity in him never changes….[Who am I?] I am Justin, a servant of Jesus Christ….What has changed? Nothing!
Justin Welby, Archbishop of Canterbury
What a shock it must have been for Justin to discover late in life that half the DNA in his body wasn't whose he thought it was. Yet his response shows that he took the news in stride, because his identity did not rest on the source of his DNA. His identity depends not on his vocation as archbishop, nor on his genetic make-up, but only on the fact that he belongs to Jesus Christ. May that be our identity too.
More from John
Latest
Categories
Tags
Series