Discerning a call to vocational ministry is life-changing. A call is a very precious thing, something to be protected, nurtured, and lived out to the fullest extent possible. Sometimes a call might be completed, and you have a release to do something else in your Christian service. The one thing we absolutely don't want is to lose our call by some action of ours which could have been avoided. Here is some advice to help you keep your call alive and fresh.
Losing One's Call
Two kings of Israel were approved by God and subsequently lost God's support. They provide sobering object lessons to ministry leaders today who want to preserve the call they received from God. Let's see what went wrong with these two unfortunate kings. In telling their stories, I'm borrowing heavily from Servants of the Servant: A Biblical Theology of Leadership
.
King Saul
King Saul had everything going for him when he was called to be king of Israel. He was of a noble family, handsome and taller than anyone else. He was obedient and submissive while searching for his father's donkey and was humble to the point of avoiding the spotlight. He was properly anointed by the prophet Samuel, was filled with the Spirit, had the gift of prophesying, and was changed by God into a different person. He turns out to be a skilled warrior and gives the credit to God. To this point, Saul has the call, the character, and the conduct to be worthy to serve Israel as the under-king to their true King.
However, as we know, Saul turned out to have a very undesirable character, usurping the role of God's prophet by disobeying a direct word from God. He becomes vengeful, self-protective, and superstitious while losing his connection with God, Making a major mistake, he erects a monument in his own honour and blames others for his faults. In response, God withdraws his Spirit from Saul and chooses David to be king in Saul's place.
Saul lost his call because of his:
failure to handle early success well
refusal to trust God in times of crisis
partial obedience and rationalized disobedience
tragic loss of touch with both God and reality
King Solomon
Solomon failed in fulfilling his leadership call as well. He was sidetracked by the allure of material wealth and sexual gratification, which displaced his affection for God. He also compromised his wisdom from a sense of entitlement to the perks which power makes possible.
He started compromising with relatively small things such as his marriage to an unbeliever for political gain. He became ensnared by the women and material wealth he was able to obtain by virtue of his position. Ultimately he lost his sense of stewardship under God's covenant with Israel, the one thing which God's continued blessing was contingent upon. Solomon was no longer faithful to the covenant or to God. Although God allowed Solomon to finish his life as king of Israel, he had already committed to dividing the kingdom and giving ten tribes to Jeroboam to rule. Because of Solomon's lack of faithfulness to the covenant, the united kingdom of Israel was lost.
Solomon lost the potential of his call because he:
ruled for himself rather than for God
ruled for his own benefit rather than the people's
replaced service with entitlement
Why Calls Are Lost
We learn from Saul that an initial call is contingent on future performance aligning with God's way of doing things. And we learn from Solomon that if the call begins to be abused (for example, for personal gain in any way), God will remove the call.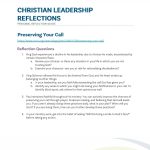 Preserving Your Call
Paul, on the other hand, did an amazing job of remaining faithful to his call right through to the end of his life. Once he met Christ, he started well and he finished well. A study of the life of Paul will show that he was consumed with fulfilling God's purpose for him, completing the race set out for him, and receiving God's approval for his motives, methods and activities.1
To improve the chances of preserving your call:
Never lose the wonder of how you discerned your call. Relive it frequently, especially in the very good and the very bad times. In the good times you need to remember that it was God who put you in the place you now hold, and he is the source of your success. Your leadership is about serving God, not you. In the bad times, you need to remember that it was God who put you in the place you now hold, and he is with you and has a purpose for you and will never forsake you. He will see you through.
Watch out for the desire to control. That desire can cause you to usurp God's place in your leadership.
Be very conscious of what you place your trust in. If it is in anything other than God, your call is at risk.
Be careful who you seek affirmation from. Affirmation from others can be very important to your development as a leader, and it may help you make decisions, but it is God's affirmation that is most critical to your leadership success.
Do only what will please God. Whether you are going to interact with a staff member or make a decision for the ministry, ask "Will this bring a smile to God's face?"
From a human perspective, it may seem like we are the person 'at the top,' but that is never true. We are always serving the One who called us to our leadership roles. The authors of The Choice: The Christ-Centered Pursuit of Kingdom Outcomes
offer three ways leaders can maintain a posture of submission to our Lord. What they have in common is that they keep us focused on God for leadership in our lives through good communication with him. The three practices are:
Make solitary prayer a priority. We can engage in solitary prayer daily while also occasionally taking a longer period of time such as a full day or even a multi-day retreat. Prayer is the primary means of communicating with God, and solitary prayer is especially conducive to listening prayer, which I recommend should be about 80% of your prayer time, giving God opportunity to speak to you.
Determine the role God's Word will play in our lives and leadership. We read the Bible in different ways – for study, devotions, inspiration and so on. The kind of reading envisioned in this point is reading God's Word to allow the Holy Spirit to shape and influence our leadership and our ministry plans. Scripture informs us about God and his ways, so that we can understand how he wants us to live and lead our ministries.
Believe that God will speak, guide, and provide. If you truly believe this, you will stay attentive to God's leadership and on track with what he called you to do. Living in the constant awareness of God's presence and active involvement in your call is the best way to prevent your leadership from becoming all about you and your personal benefit. God honours faithfulness and obedience.
And so…
How about you and your own call? Are you in danger of losing it? Do your own self-evaluation against the negative and positive examples and the advice given above. But don't stop there. Just in case you have a blind spot, ask for feedback from some people who see you in your ministry environment and who are willing to tell you the truth. Do they see anything which you don't?
May God continue to work through you for years to come!
More from Christian Leadership Reflections
Latest
Categories
Tags
Series