Oswald Saunders says in Spiritual Leadership
 that the prime consideration in selecting kingdom leaders is spirituality. Any other criteria results in unspiritual administration and ultimately spiritual death for the ministry. I've posted about the public consequences of private spirituality, and now I'd like to suggest one way to keep your leadership spiritual – an annual personal spiritual leadership retreat.
Jesus and His Retreats
Jesus practiced the habits of solitude and retreat throughout his ministry (Luke 5:16). As I recall, Jesus had only one extended retreat recorded in the gospels (Luke 4:1 and parallels). He used it to reflect on his identity and crystallize his purpose, define the appropriate use of his power, and fix in his mind the need for absolute obedience to what Scripture reveals of his Father's will. We still benefit today from the work that Jesus did that flowed out of this one powerful retreat! Throughout his ministry, Jesus regularly used short spiritual retreats to:
keep himself grounded in his mission

Luke 4:42-44. When the crowds demanded that he stay and continue to minister to them, Jesus went into seclusion and then announced that his purpose was to preach in other cities as well.

reflect on what was happening around him

John 6:14-15, 26-36. In this account, the crowds misinterpreted what the signs of Jesus' ministry meant. After seclusion, he came back to the crowds and corrected them.

make key leadership decisions

Luke 6:12-13. He chose the twelve apostles after a night of solitary prayer.

set the next phase of his leadership

We see this, for example, at key points such as the beginning of his ministry when the Spirit took him alone into the wilderness and at the end of his earthly ministry in the Garden of Gethsemane.

meditate on God's word

Someone I read just recently (sorry, I can't find it again) suggested that Jesus must have meditated a lot. How else would he have come up with the metaphors and parables he used to draw spiritual truths from everyday activities?
Based on Jesus' use of retreat time, there is great value for us doing retreats as well. I pray, study, listen, meditate and reflect as a regular practice, but setting aside an extended period of time for a more intensive encounter alone with God provides an incredibly rich grounding for my leadership. Look again at the list of what Jesus used his retreats for. That list is just as important for us today.
Designing Your Retreat
There are lots of ways to do a retreat, so I am not prescribing how you should do yours. I am sharing what I do, to spark your own creative ideas about what you might do. Also, I think a key to a successful retreat is not to have any particular agenda as far as specific output is concerned. I want God to control the output, not me. My attitude is "Let's see how God will use this time." I intentionally set aside the time, use a general structure, have a starting place, but then stay open to how the Spirit leads.
I do a five-day spiritual retreat once a year.1 I do it in the summer because in my circumstances:
I get my performance review at the June board meeting.
I get the results of the Best Christian Workplace survey in June as well, giving me a window into how the staff evaluates the ministry's work environment, and indirectly my leadership.
Our fiscal year-end is March 31, so by June the staff has evaluated our organizational performance over the last year.
At the June board meeting I get the board's direction or suggestions for the next planning cycle.
Finally, management works on the strategic and action plans in the fall for the next fiscal year. The retreat helps me frame the discussions that we'll have in the planning process.
My five days generally look like this:
Day 1 is spent reflecting on how well I as an individual am following Christ. This has nothing to do with work directly, but if my personal walk is not pleasing to God, then my professional walk won't be any better. I owe it to the ministry to have a rich, personal, vibrant spiritual life. The personal day could include these checks from The Making of a Leader by Robert Clinton:

An integrity check – are you living out your stated values? Are your intentions and motivations honourable? Are you walking the talk?
An obedience check – are you doing what God has asked you to do? Following God's laws and trusting his leadership? Confessing, repenting and forgiving?
A word check – are you able to perceive God's truth and work it out in your own life? Can you discern God's guidance for you personally? Being able to discern God's guidance is a prerequisite to leading God's people.

On Day, 2 I reflect on my personal call and how well my leadership at CCCC reflects that call. I have my personal call to serve the church, which takes precedence over my call to CCCC. CCCC is simply the way I am currently fulfilling my call to serve Christ's church. I'm going to write a separate post on this, but the key point here is that there is a reason why God has placed me and not someone else in leadership at CCCC at this time in its life. The board and I mutually discerned God's call for my appointment, so there must be something about me that God wants expressed at CCCC. I reject the personality cult of leadership, so it's not about me, but it is about how God has prepared me for this role. When I was offered the opportunity to come to CCCC I was at the same time in the process of looking for a church to pastor. I was on a 7 day spiritual retreat and the issue at hand was which option was God's will? Was one a test for the other? The short version is that I received the Lord's direction that I was free to choose, but that if I chose CCCC my particular contribution would be to use the ministry's mandate to protect Christ's reputation by helping Christian leaders lead more authentically as Christians. So, that's why we have the Best Christian Workplace survey. That's why I write this blog. That's why we incorporate theology (hopefully free of denominational distinctives) into our stewardship training. That's why the conference workshop tracks were increased from six to eleven, to incorporate theologically sound soft skills topics into the mix. So I spend a day thinking long and hard about the unique contribution I can make to CCCC.
Day 3 is a reflection of how well CCCC is fulfilling the mandate that God has given it. At the June 2003 board meeting, when I was appointed as executive director, they directed me to explore the edges of CCCC's mandate. We had been consumed for more than ten years with the clergy residence legal cases, and the last one was settled the week I arrived for work. While that issue doubled our membership and earned us the gratitude of pastors across the country (I still regularly have people in the regional seminars stand up to thank CCCC for this huge thing we did for them), it did focus our attention pretty much exclusively on one particular program (the Legal Defense Fund). My predecessor, Frank Luellau, did a remarkable job shepherding CCCC through that time. However, we are now past that time, so I am free to use Day 3 reflecting on what our mission really means. What else could we do to achieve our mission? I think of all the people I have met over the past year, and review notes of our conversations, and pray about the issues our members are dealing with and how we might help them.
Day 4 is when I draw on faithful strategic planning resources to have a systematic approach to reflect on CCCC and its future health. I'll pull out the books and use the models. This is also the day when I think of CCCC and its business model. We are in effect an association. Is this still the appropriate model? Should we be a fee for service professional organization? (No, but the question still needs to be asked.) I use everything I have on association management and trend analysis for the association sector. This day helps ensure I don't overlook anything. By the way, this day does NOT replace any of the planning that is done with staff. It is only to help me prepare for that planning.
Day 5 tends to change each year according to what I feel the major need is. Over the last year I realized the Lord is calling us at CCCC to be bolder. To step it up. To think big and believe that resources follow vision. [IMPORTANT NOTE: I did not say that money follows expenses!!! Unless God specifically calls your ministry to live by faith, he calls us to be wise in how much risk we should accept.] So I spent the day this year praying, meditating on God's provision and his promises related to courage and boldness, and reflecting on what boldness might look like for CCCC. In previous years the emphasis has been on other aspects of our ministry, such as what it means for CCCC to be part of a community of ministries as opposed to a thinking of us only as a single organization. That year I thought through issues of partnership, cooperation and competition. I worked through how we could be open-handed and generous while at the same time preserving our financial viability.
This five-day structure works well for me, and you can adapt it for your type of ministry. For example, if you are a relief and development ministry, then on Day 4 you'll be looking at best practices, trends and other aspects of your sector (both secular and Christian).
There is a lot of room for individual preference as to how you commune with God. For me, I tend to do best by asking questions of God, and then waiting silently for a response (no distractions, no music, etc.).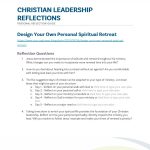 After the Retreat
When the retreat is over, I don't "come down from the mountain" with a fully laid-out plan to impose on staff. I do come back with directional thoughts to discuss and test with staff, and then lay out specific plans. I also don't give them out all at once, because that could be overwhelming and sometimes the Lord gives ideas for me to steward over time, taking time to ruminate on them and share them at the appropriate time.
For those who want to read about or study the spiritual disciplines of silence and solitude, which form the core of a spiritual retreat, I'm sure you'll find excellent courses at your local Bible college or seminary which you might be able to take, or as a quicker alternative, the two main authors to read are Dallas Willard and Richard Foster. Between them, they've written quite a few books on this topic.
Now, I know I'm not the only one doing personal leadership retreats. Can you share your approach? I'm open to experimenting next year with something different.
Note from December 2021: I did this retreat for years. More recently, I have been doing two or three-day retreats because I have worked days 3 and 5 of the five-day plan into more frequent mini-retreats spread through the year. ↩
More from Christian Leadership Reflections
Latest
Categories
Tags
Series