I've written before about how the church can engage society well. Here is a 17-minute video of Harry Whyte, CEO of Ray of Hope (a youth custody and inner city ministry in Kitchener, ON) talking about how he established a community in downtown Kitchener with people very unlike himself.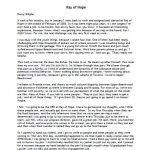 Harry shares his learning experiences and gives practical advice so you can better reach out to build community with your neighbours, and to venture out into riskier territory and build community with people who you normally would never come in contact with, people who are in very different circumstances to your own.
His talk is an encouragement to us all to see in others the humanity that is common to everyone, and especially to make yourself available as Christ's representative to them.
Salons: One Way to Connect with Your Neighbours
The video records one part of Harry's presentation at an afternoon salon my wife and I hosted for our neighbours. (The other part will appear in another CCCC blog: Stories of Faith from Christian Charities.)
As a way of building community, we invited our neighbours to our house to hear an interesting talk and then have a discussion. It was very well attended, and as we talked about building community with troubled people, several neighbours shared their own deeply moving stories. They learned more about each other, they learned about some of the issues we face in our city, and they learned about a great Evangelical Christian ministry that is making a difference in local life. It was a success on many levels. You may want to host some discussion groups of your own!