Give confidently, give generously
If you sponsor a child and have ever wondered:
what really happens once the charity receives your donation;
if there really is a specific child on the other end;
if sponsorship really makes a difference;
then read on!
Based on my visit to Compassion Thailand, you will find you can give confidently to Compassion (and any other ministry that handles their finances this well), and therefore you can give generously.
I visited the Thai national administrative office of Compassion in Chiang Mai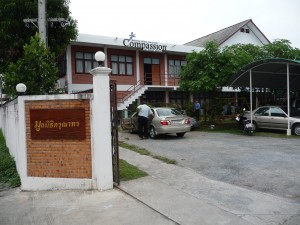 and one of its many projects, the Baan Mai Sawan Church Child Development Centre about 45 minutes outside the city.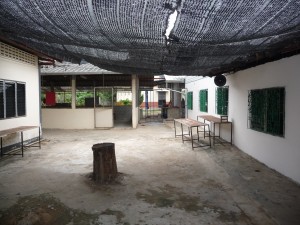 Compassion can release more detailed information if they wish, but at a more general level I'll share my observations that should help donors understand how well their donations are handled.
Thanks to Barry Slauenwhite, president of Compassion Canada and chair of CCCC, for introducing me to his very competent and professional staff member, Jodi Godby, who put together a wonderful day!  Thanks Jodi.
An excellent child sponsorship program!
Here's what I found that was of particular note:
Every child is associated with a project, and every project is run by a local church. This means that all children are in a social network that can support them holistically. When a project ends, the child still has a community of support from the church. Here's a picture of the Baan Mai Sawan church (which is integrated into the project).

Compassion has program facilitators who keep in regular contact with the churches, ensuring good supervision and accountability is in place.  Outcomes, indicators of outcomes and means of verification are documented.
Compassion's internal audit department in Thailand does a program evaluation of 60% of the projects each year to ensure they are effective. Every project must be audited once every thirty months.
Each monthly donation is tracked many different ways, but one of them is by child. If a child is no longer in a program, the funds are returned right away. They have an aging report to ensure funds are returned within 30 days.
If you send a gift to a child beyond the regular support, 100% gets to the child and the child signs a receipt for it.
A monthly report shows every child's name, the sponsor's name and the amount (including special gifts). When you give a gift, it remains identified with you right through to the end.  Your donations never 'disappear' into a central pot.
Every two years, the child completes a workbook in which they say what they want to do or be when they grow up, and then a child worker works with them to develop a custom plan for each child to make their goal possible. Several children from the project I visited have gone on to become a nurse, a Ph.D., and other successful careers. I liked that they deal with each child's potential, not just survival.
Several of the staff at Compassion and at the project were themselves sponsored children.
As they age, each child gets 3 Bibles that are age-appropriate.
Every letter to and from a child is kept as part of their file. Academic and health records are tracked so a child's progress can be carefully monitored.
Compassion Thailand submits it's expenses monthly for reimbursement, ensuring they provide full accountability to the international funding body that collects all the donations worldwide and then distributes them to the countries with projects.
I reviewed too many reports to comment on here.  Let me just say that the Thai office runs a very tight ship and they are on top of their responsibilities and accountabilities.
Compassion Canada is a Certified member of CCCC, which means they adhere to our nine standards of accountability. It was really encouraging to see that those principles are in practice in an overseas partner ministry. I don't believe they are consciously following our standards, in fact they probably have never heard of them in Thailand, but it does indicate that our standards reflect what we in Christian ministry aspire to hold ourselves to. When you see the CCCC's Seal of Accountability in use by any of our Certified members, you can give confidently and generously.  You can find a list of the Certified members here.