Converting Mission & Vision into an End Statement
Most leaders are trained to think in terms of mission and vision statements. I was one of them. But CCCC adopted a Policy Governance model and that requires an End Statement. So how many strategic statements do you need? And which one has priority? For leaders who think in terms of vision and mission but who live in a policy governance environment, here's a case study of how I dealt with the issue at CCCC.
End Statements
I've already provided the traditional definitions of vision and mission: vision explains why the organization exists (what it wants to accomplish) and mission is its overarching strategy for accomplishing the vision. Now let's remind ourselves what an End Statement is. According to John Carver (the developer of policy governance), End Statements:
define which human needs are to be met (usually shortened to "what good"), for whom, and at what cost. Written with a long term perspective, these mission-related policies embody the board's long-range vision.1
are developed in terms of the mission to be accomplished, its outcomes.2

Ends are not about intentions. Carver criticizes a statement that says the commitment is that the organization will "seek to bring" its good works to people. Good intentions are insufficient because you don't actually have to do anything to fulfill the mission.
Ends are not about what the organization does or what it values. Another statement that Carver criticizes says the association will provide "support…in an effective and caring manner." It doesn't say what difference it will make.
Ends are not about activity. Carver says to be wary of any prominent verbs in the End Statement. Ensure Ends refer only to outcomes.
Although Carver used to describe the End Statement as a specific type of mission statement, he rarely uses the word mission anymore because it can lead the board astray from policy governance into less rigorous, less theory-based practice. He says if the staff wants to have a mission statement, it can have one because having a mission statement is a means (the organization's strategy), not an end. It might be good for public relations or inspiring staff, for example, so if it is helpful you can have one, but it is not a part of policy governance.[1, Boards That Make A Difference p 84.]
The examples he gives for "at what cost" are "at a competitive cost", "at a reasonable cost", and at a cost "no greater than comparable associations." Carver approves of one example that does not mention cost but says he does not recommend it. He says cost can be left out because the Executive Limitation against imprudence imposes a ceiling on costs in relation to benefits anyway, but he fears that the cost element may get lost among the Limitations[1, Boards That Make A Difference p 92-93.] to which I say, "Surely not!"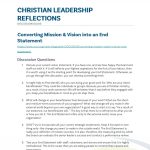 Ditch the Cost Factor!
Strategic statements need to be succinct and powerful. They need to motivate board, staff, donors and other stakeholders. Statements of the obvious are not powerful and just add unnecessary verbiage. They sap energy and are completely uninspiring. So here are my reasons why (in most cases) you should leave cost out of the End Statement:
The sample Carver-approved End Statements all have what I would call 'motherhood' cost statements. Would anyone say they will produce their good at an "uncompetitive cost," at an "unreasonable cost," or "at a cost greater than comparable associations?" I don't think so. What 'value' does the value component of the End Statement contribute? The only time a motherhood statement is useful is when it hasn't been true for a particular organization. So if a ministry has been woefully inefficient in its operations and wildly overspending on programs with no commensurate benefits, then the board may want to bump the cost factor up to the End Statement and limit spending to what is reasonable or comparable to other ministries. Otherwise such a statement adds no value.
The issue of costs can be quite adequately dealt with through three mechanisms other than the End Statement:

Executive Limitations and budget: The board can say that the CEO shall not allow programs to operate at an unreasonable cost relative to other providers. It can set whatever limitations it wants around how the budget is developed. Then it can do a direct inspection of the budget by asking management to explain how decisions were made about allocating resources to the various programs, administration and fundraising. It can then check that those decisions comply with the Executive Limitations.
Corporate values: The board can also insert into the corporate values a statement about being good stewards of the ministry's resources. One of the tests to run before approving any organizational decision, at the board or staff level, is to assess the recommended decision against the corporate values to see if it aligns.
Organizational and program evaluations: The board can require that program evaluations be done to ensure they are effective and efficient. Cost/benefit analysis will ensure that costs are reasonable. An organizational evaluation examines the bigger picture, looking at how well the ministry is accomplishing its End Statement. This corporate-wide evaluation examines spending on administration and fundraising, thus ensuring that all costs are tested for reasonableness.
My recommendation is to leave cost out of the End Statement unless management has demonstrated poor judgment in this area and needs to have costs highlighted at this level. Otherwise, the shorter the End Statement, the better. The big benefit of leaving cost out of the End Statement is that the statement is focused solely on mission and that makes it much punchier and highly motivational.
A Case Study
A vision statement is a picture of the final condition an organization wishes to see. The draft that we were working with in 2012 at CCCC was: A vibrant community of exemplary Christian ministries working together to effectively fulfill their missions.
A mission statement describes the overarching strategy to accomplish the vision. Our draft mission statement at the time was We are the Canadian Council of Christian Charities and we are privileged to develop Christian ministries into strong, healthy organizations that serve Jesus Christ with integrity. This is written in the format of a Statement Zero, which I find highly motivational. The strategy for seeing exemplary ministries is to help them serve Christ with integrity, while the strategy for helping them effectively fulfill their missions is to help them be strong and healthy organizations. Each of those key words can be unpacked as to what we mean by them.
If you have to choose only one statement as the basis for crafting an End Statement, start with the vision because it depicts the external change that you want to cause. Here are the steps we went through as a staff at CCCC to come up with a draft End Statement for the board to consider:
It didn't take long to decide for whom the good will be done — our members. We recognize that our influence goes far beyond our members, mostly through the 127 denominational offices that are members, but we can only commit ourselves to doing good for our members.
The longest and most difficult conversation the board and staff have had has been about our claim — our stake in the ground — against which we will measure our success. The stake has to be outside our organizational boundary. The outcomes belong to our members not us. The change that we make is outside of ourselves. We were stuck on our role in creating the change. Do we build? Develop? Assist? We finally decided the strongest claim we could make is that our members will be something as a result of using our services. So instead of saying "CCCC develops…", we now say "CCCC members will be…" The stake in the ground is still there. If we determine that our members are not what we want to see, then we have to take ownership of our failure to achieve the expected outcomes by asking:

Were we not persuasive enough?
Did we show them step-by-step how to do it?
Were we not relevant?
Did we communicate in an understandable way?
Did we understand the real issues faced by our members?
What are we missing?

The good that we want to do for our members is whatever it takes for them to become a vibrant community of exemplary, healthy, and effective Christian ministries.
We finally dropped reference to the vibrant community because that is a secondary goal that we have but it is not our primary focus.
The final version of the End Statement approved by the board is short but powerful:
CCCC members will be exemplary, healthy, and effective Christian ministries.
We then developed a two-sentence commentary on what we mean by the End Statement:
Within the CCCC community, ministries find practical, expert resources to help fulfill their missions and demonstrate a compelling Christian witness. They choose to access our services to heighten their performance, enhance their sustainability, and stimulate their creativity.
These statements reflect our hopes for Christian ministries and outline the work that CCCC needs to do:
We want them to share best practices with each other, so we must prepare a way for them to receive resources from CCCC and each other. Our online community, The Green, facilitates sharing.
How they operate will be a powerful witness of applied Christian faith, so we need to talk about theology in action. We include a theological perspective wherever appropriate in our knowledge resources and created God's Workplace that contains devotionals that applies faith to the operations of a ministry.
They will be high-performing organizations with sufficient resources of money and people to endure until their mission is accomplished, so we need to help them attract people and money. We have many programs that address these needs.
With the inflow of new ideas they will be always looking for better ways of operating, so we need to highlight what's new in organizational leadership and operations.
May the Spirit guide you as you consider developing an End Statement.