The Word became flesh and made his dwelling among us.
John 1:14 (NIV)
Previously, I wrote that the church needs to engage society well. Now it's time to expand on that topic and consider how we can have an effective, faithful presence in an unfaithful society.
Jesus is our model, especially for how we should regard the people of that society. As one author noted, "He does not force us to love him against our will, nor does he love us because of anything we can do for him. He just loves us."1 That love undergirded everything Jesus did:
Jesus moved from the perfect community of the Trinity to the imperfect community of humanity, taking the world as he found it and accepting the injustice he suffered.
He spoke strong words of correction2 to those who either prevented or made it difficult for others to experience the life God desires us to have.
At the same time, Jesus spoke words of love and compassion, as well as firm but gentle words of correction,3 to those who were victims of circumstance or of mistreatment, and those who committed personal sins (such as the adulterous woman of John 8).
His preaching can be characterized as 'invitational.' He announced the in-breaking of the kingdom of God and invited his audiences to enter into it.4 He never coerced anyone, but called people to voluntarily live to a higher standard than the religious (and civil) laws required.
He was never concerned about tainting himself by association, nor was he at all concerned about making himself unclean by touching the dead or the ill. Loving people and giving them a better life trumped all these concerns.
We can only accomplish our mission by getting close to those who need God the most. This is what faithful presence is all about.
Faithful Presence
As James Davison Hunter says so well, faithful presence means that within our spheres of influence we constructively challenge, undermine, and otherwise diminish oppression, injustice, enmity, and corruption and, in turn, encourage harmony, fruitfulness and abundance, wholeness, beauty, joy, security, and well-being. In To Change the World, Hunter says a faithful presence means you "Nurture the world where God has placed you."
Nurturing our world means that we do what we can, however big or small that is, to make our part of the world a better place. Christians don't need to be super smart, especially eloquent, or even particularly outgoing to change their part of the world. They can do it through direct action that they take or indirectly through influence. Even just a thought-provoking question or a quiet expression of an opinion can cause people to question their assumptions and gain a new perspective.
There are at least five ways we can have an effective, faithful presence in our society. Here they are.
Demonstrate God's Love for All Humanity
First, faithful churches and Christians demonstrate God's love for all humanity through acts of service. In this broken world few people have the life of shalom (health in every aspect of life) which God intended for us. Some go without food because the effects of the Fall have made parts of the world barren or only minimally productive. Many suffer because others take advantage of power or wealth. And some people become dependent on others because of disease or congenital mishaps.
Through acts of service, the church does what it can to correct or ameliorate these problems so that all people can experience as much shalom as possible.
Churches can address the issues directly through their own programs, or they can address them indirectly through the many specialized Christian ministries which bring together knowledge, gifts, and skills from many local churches to address these issues. Local churches can have a mutually beneficial relationship with these agencies by using the principles and practices of good church-agency relationships which are documented in The Church at Work, a book available in the CCCC store.
About 200 Christian charities have adopted the Canadian Centre for Christian Charities' Standards of Accountability and allow us to verify their compliance. They have earned our Seal of Accountability meaning you can confidently give generously to them. You can find a list of these charities at giveconfidently.ca.
Individual Christians can do their part too. They can:

support the service programs of specialized ministries and/or their own church by donating or volunteering, or
they can do direct acts of service on their own initiative to people within their own sphere of influence as just a normal part of everyday life.
Christians are in every strata of society, so if all are engaged in serving the needs of those around them, we could be a tremendous force for good.
Proclaim Christ's Gift of New Birth and Life
Second, faithful churches and Christians make evangelism not just a priority but a way of everyday life. The early church did have its full-time evangelists, but it did not professionalize evangelism. Ordinary Christians were powerful evangelists as well, as I've documented in other posts through the work of Michael Green and Rodney Stark.
Faithful churches and Christians must always be working to draw people to Jesus Christ, proclaiming the power of new birth and life which Christ makes possible.
Critique
Third, faithful churches and Christians risk being unpopular in order to be faithful, ready to say what is true even when people don't want to hear it. If we love society, we will not hesitate to point out its blind spots for its own good. This is our prophetic role as society's conscience.
For example, Timothy Keller says we must address society's idols of personal happiness and self-actualization, which he links to consumerism, materialism, and greed, and consequently to injustices.5
Many Christians are ready to critique our society, but they don't know how to do so in a way that will be effective. We need thoughtful critics, Christian think tanks and leading academics, to help us formulate positions and their supporting persuasive arguments.
Individual Christians can offer good critiques too, if they learn how to do it well. I attended an excellent one-day course put on by The OpEd Project, whose mission is to increase the range of voices and quality of ideas we hear in the world. The key points of the seminar can be found in their free "Resources" menu. People who want to speak out publicly will benefit by learning how to construct effective arguments using solid logic and good rhetoric (as is taught by The OpEd Project and others).
Affirm
Fourth, we need to affirm whatever we can in our society so that we are known for something positive.
If we are willing to critique, we must also be willing to affirm.
Some people know God but aren't doing much to serve their neighbours. Others are doing great acts of service to benefit their neighbours but don't know God. Ideally, both would be true of everyone. But if not, doing good is still good in its own right and should be affirmed. And consider this, humanitarian secular people can, by doing good, unwittingly move society closer to God's ideal. In some cases, God may even be using them to bring correction to the church. He certainly used ungodly kings and empires to bring correction to Israel.
To help us analyze culture and determine what to critique and what to affirm, William Webb wrote Slaves, Women and Homosexuals, which is about the hermeneutics of cultural analysis. He applies a hermeneutical model to those three issues as they are presented in the Bible to determine what is cultural and what is transcultural. The transcultural represents God's ideal. If society is moving towards God's ideal, we should support the move regardless of who is behind it.
Lead
Fifth, because of the church's faithful presence over the centuries, it was able to lead society forward through its patronage of the arts, the establishment of schools, universities, and hospitals, and the many specialized ministries which care for the poor and needy.
How should the church provide leadership to society today? We need some imaginative and thoughtful people to get together for theological and missional reflection on this question. We need to consider God's ideal human society, and develop some concrete proposals for what the church could do to help society move closer to God's ideal. And then we need people who can make it happen.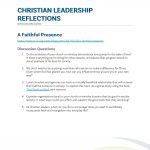 Train for Presence
It's been said that local churches should be known as servant communities which promote the common good, even though they do so from a counter-cultural perspective. Churches must, in Timothy Keller's opinion, be an:
"alternate human society in which relationships are strong and deep — and in which sex and family, wealth and possessions, racial identity and power, are all used and practiced in godly and distinct ways. However, while the Christian church must be distinct, it must be set within, not separated from, its surroundings. Its neighbors must see it as a servant society, sacrificially pouring out its time and wealth for the common good of the city….The sacrificial service of a missional church will show the world, then, a "third way" between individualistic self-absorption that secularism can breed and the tribal self-righteousness that religion can breed."6
Keller suggests that the church equip Christians to be missional in three primary ways.7 Here they are, with my comments:
As a verbal witness to the gospel in their web of relationships.

Training should include a good analysis of why people come to faith so they know better how to present the gospel. One great book that addresses this topic is I Once Was Lost: What Postmodern Skeptics Taught Us About Their Path to Jesus. The authors describe the factors that influence how people shift in their perspectives and become open to the gospel.
Churches should downplay what I call transactional evangelism (encounters with no context or potential for follow-up) and highlight relational evangelism within a person's sphere of influence, where they know the person and can walk with them over time. We still need to be open to 'God moments' and respond when opportunity presents itself, but if we have to prioritize our time either to creating transactional opportunities or to developing relational opportunities, my personal opinion is that the latter will be more effective. People will have time for relational evangelism if churches are more selective in what they ask members to volunteer for. They should evaluate their programs to see how effective they really are in terms of mission success. Decrease busyness and increase effectiveness!

As a person who loves their neighbours and does justice within their neighbourhood.

Churches should teach the biblical definition of justice so believers better understand what they might do to further justice. Justice has several meanings, including conformity to something (such as a mode of life or habits), to each according to his due, or proper recognition of someone's rights. Justice is closely related to shalom, the original state of creation in which every person had their fair share of God's resources and lived in perfect health and harmony.
Churches should also help their members see that even individuals can improve justice and build community with their neighbours. One inspiring book about individuals taking the initiative to build neighbourhood community is The Art of Neighboring: Small Steps to Building Genuine Relationships Right Outside Your Door which I've previously reviewed.

As people who can Integrate their faith with their work in order to engage culture through their vocations.

Christians should see their careers and work, no matter what they are, as a ministry in service of Jesus Christ. This gives work significant meaning, and the worker a richer perspective towards it.
They should be able to infuse their work with their faith and make their work an expression of their faith in action. One really good small group study on this topic is Christians in the Workplace. I'm sure there are many other resources.
Practice the Ideals in Church
Whatever ideals we present to society, we must make sure they are in place within our churches. Churches should be showcases for what God's ideal society looks like. So practice within the church what we intend to preach outside the church.
May the Lord guide us as we live faithfully in the midst of people who are still far from him but who need to know him.
Key Thought: Christians are to sacrificially love people before they are lovable.
The Art of Neighboring book has been provided courtesy of Graf-Martin Communications, Inc. Available now at your favourite bookseller.
More from Christian Leadership Reflections
Latest
Categories
Tags
Series